Simple Chicken & Broccoli Casserole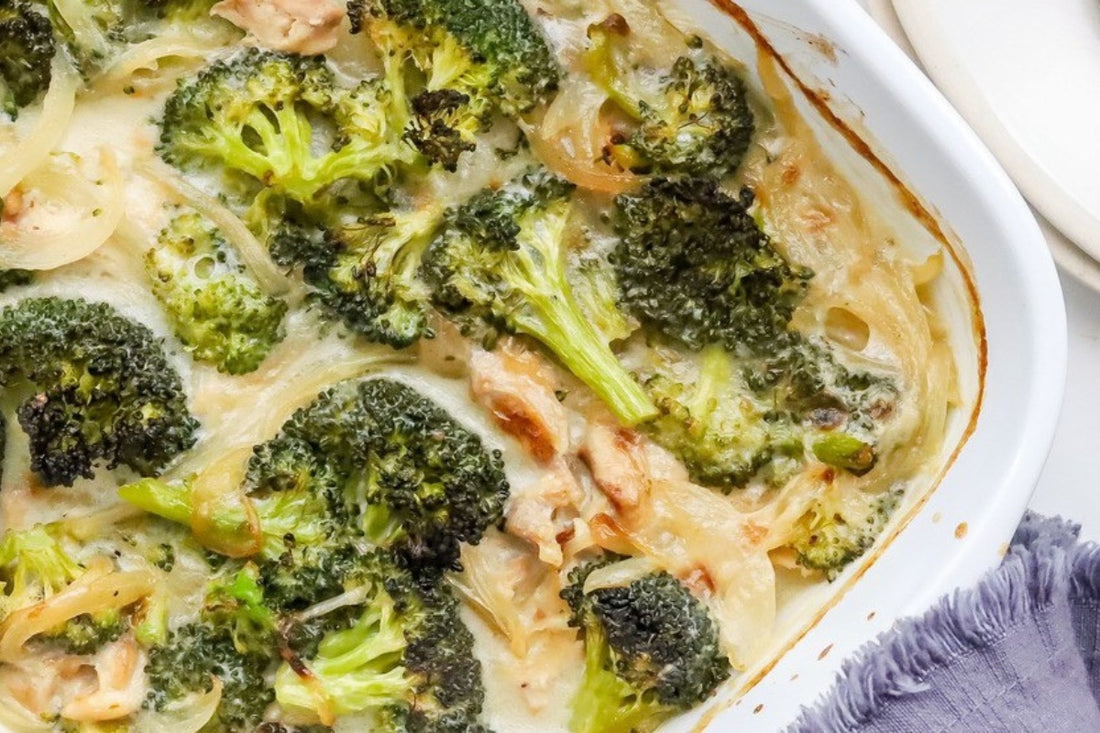 Continuing our October recipe theme of soups, stews and warming dishes, this quick and easy casserole is an absolute winner. Packed with delicious flavours and ready in under an hour.
10 ingredients | 50 minutes | 4 servings
Ingredients
454 grams Chicken Thighs (boneless)
2 grams Sea Salt (divided)
5 ml Avocado Oil
455 grams Broccoli (cut into florets)
1/2 White Onion (thinly sliced)
303 ml Canned Coconut Milk (full fat)
9 grams Nutritional Yeast
8 grams Tapioca Flour
2 grams Garlic Powder
177 ml Chicken Broth (stock)
Directions
1. Preheat the oven to 400ºF (200ºC).
2. Season the chicken thighs with half of the sea salt. Heat a frying pan over medium heat and add the avocado oil.
3. Working in batches, add the chicken and cook for 6 to 7 minutes per side or until cooked through. Remove the chicken and set aside to cool. Once cool, shred the chicken with two forks.
4. In the same pan, using the fat from the chicken, add the broccoli and onion and cook for 3 to 4 minutes until the broccoli is bright green. Remove from the pan.
5. Meanwhile, in a saucepan over medium-low heat, add the coconut milk, nutritional yeast, tapioca flour, garlic powder and remaining sea salt. Whisk to combine. Bring to a simmer, then turn off the heat and add the chicken broth (stock).
6. Add the shredded chicken thighs to an oven-safe casserole dish and top with the broccoli and onions.
7. Next, add the coconut milk sauce over the chicken and vegetables, and give it a stir.
8. Place it in the preheated oven and bake for 20 to 25 minutes. Remove, let it cool slightly and then serve. Enjoy!
Hints & Tips
Leftovers - Refrigerate in an airtight container for up to three days.

More Flavour - Add chopped bacon or mushrooms to the dish (cooking with the chicken). Season with your favourite dried herbs. Add a few chilli flakes for a little warmth.

Serving Suggestions - Serve with rice or cauliflower rice, or your favourite flatbread.
Please share your thoughts and comments
Subscribe to our newsletter and receive monthly offers, recipes, blogs and updates.
** We won't bombard you and you can unsubscribe at any time