Mushroom & Orzo Pasta Soup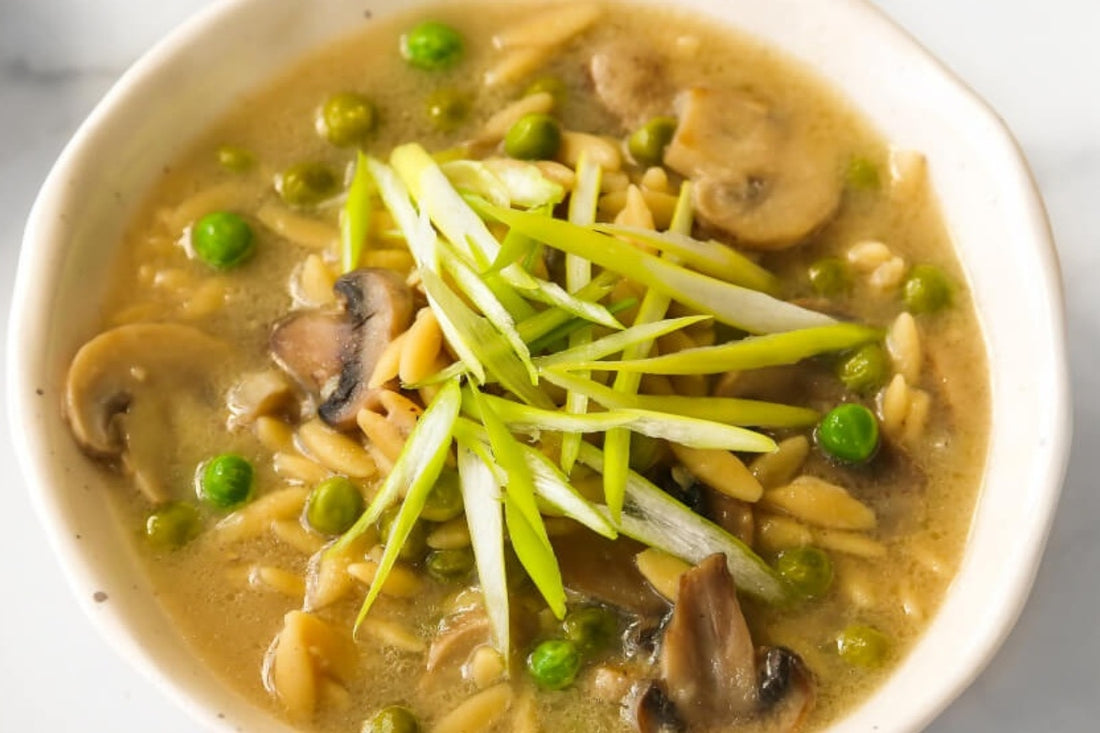 Throughout October our recipe theme is Soups, Stews & Winter Warmers. We LOVE home made soups for so many reasons. Here's just some of our favourite reasons why...
Comfort and Warmth
Soup is often associated with comfort and warmth, making it a popular choice on cold or rainy days. It can provide a soothing and cosy feeling, making it a go-to option for comfort food.

Versatility
Soup comes in countless varieties, from broths and bisques to chowders and stews. This diversity allows individuals to choose flavours and ingredients that suit their preferences and dietary needs.

Nutrient-Rich
Many soups are packed with a variety of vegetables, lean proteins, and whole grains, making them a nutrient-rich meal option. The combination of ingredients can provide a wide range of vitamins, minerals, and antioxidants.

Digestive Health
Broth-based soups can be gentle on the digestive system and are often recommended for individuals with digestive issues. They can be easily absorbed and can soothe an upset stomach.

Convenient and Portable
Soups are easily transportable and can be prepared in advance. They make for convenient lunches and dinners, whether you're eating at home or taking a meal to work or school.

Easy to Prepare
Many soups are simple to make, requiring only basic cooking skills. You can prepare a large batch and freeze it for future use, saving time and effort.

Reduced Food Waste
Soup is an excellent way to use up leftover ingredients, reducing food waste. You can turn vegetables, proteins, and grains that are near their expiration date into a delicious and nutritious meal.

This recipe is a absolute favourite in our household! Hope you enjoy it as much as we do! 
11 ingredients | 45 minutes | 4 servings
Ingredients
5 ml Extra Virgin Olive Oil
8 White Button Mushrooms (sliced)
1/2 White Onion (medium, diced)
2 Garlic (cloves, minced)
550 ml Nutmeg (ground)
Sea Salt & Black Pepper (to taste)
75 grams Orzo Pasta
720 ml Vegetable Broth (stock)
80 grams Frozen Peas (thawed)
242 ml Canned Coconut Milk
1 stalk Spring Onion (thinly sliced)
Directions
1 Heat the oil in a pan over medium-high heat. Sauté the mushrooms for three to four minutes or until soft. Add the onion and sauté for another two minutes.

2. Add the garlic, nutmeg, and some salt and pepper (to your liking). Stir and cook for another minute.

3. Add the vegetable stock/broth and the orzo pasta. Bring up to the boil and as soon as it reaches temperature, turn down the heat to low. Allow to simmer for 20 minutes.

4. Add the peas and coconut milk. Continue to simmer for another 10 minutes or until everything is cooked through. Add a splash of water if necessary.

5. Divide the soup between serving bowls and top with green onion. Enjoy!
Hints & Tips
Leftovers - Refrigerate in an airtight container for up to three days.
Serving size - This recipe makes 4 x servings.
Make It Gluten Free - Use gluten-free orzo or brown rice pasta instead.
More Flavour - Add parmesan and basil. 
Please share your thoughts and comments
Subscribe to our newsletter and receive monthly offers, recipes, blogs and updates.
** We won't bombard you and you can unsubscribe at any time