Tasty Moroccan Chicken (or Chickpea) Stew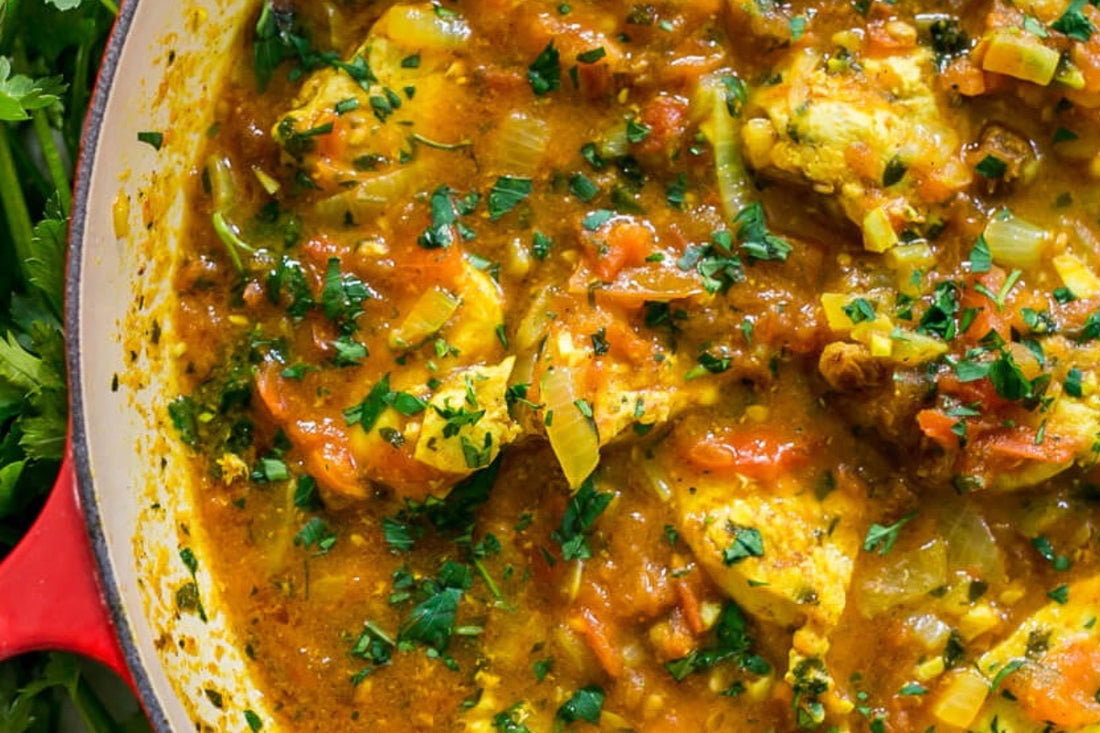 Continuing our October recipe theme of easy and warming Soups, Stews & Winter Warmers, we have a great option for you here! This one can be either Vegetarian or not, depending on who you are catering for - either version is super yummy! 
This recipe is another firm favourite in our house, not least because it is SO easy, and still so tasty.
As a vegetarian, my vote goes to the chickpea version, but my partner Nick, well he definitely prefers the one made with chicken! Hope you enjoy it as much as we do! 
12 ingredients | 30 minutes | 4 servings
Ingredients
60 ml Coconut Oil
283 grams Chicken Breast (skinless, boneless, diced)
2 White Onion (medium, diced)
3 grams Turmeric
1 gram Cinnamon
1 gram Cardamom
0.5 gram Cayenne Pepper
9 grams Sea Salt
3 Tomato (large, diced)
30 grams Parsley (finely chopped and divided)
42 grams Raw Honey
55 grams Raisins
Directions
1. Heat coconut oil over medium heat in a large pot or saucepan. Add the chicken, onion, turmeric, cinnamon, cardamom, cayenne and salt. Cook for 15 minutes, stirring occasionally.

2. Stir in tomatoes, half the parsley, honey and raisins. Cover and cook for another 15 minutes, until chicken is cooked through and sauce is thick.

3. Uncover and serve immediately. Garnish with remaining parsley. Enjoy!
Hints & Tips
Storage - Refrigerate in an airtight container up to 3 days, or freeze if longer.

Serving Size - This recipe makes 4 x servings.

Serve it With - Crusty bread, brown or white rice, quinoa, or warm brown rice tortillas.

Make it Vegan - Use maple syrup instead of honey.
Please share your thoughts and comments
Subscribe to our newsletter and receive monthly offers, recipes, blogs and updates.
** We won't bombard you and you can unsubscribe at any time