Portobello Mushroom Veggie Burgers with Goat's Cheese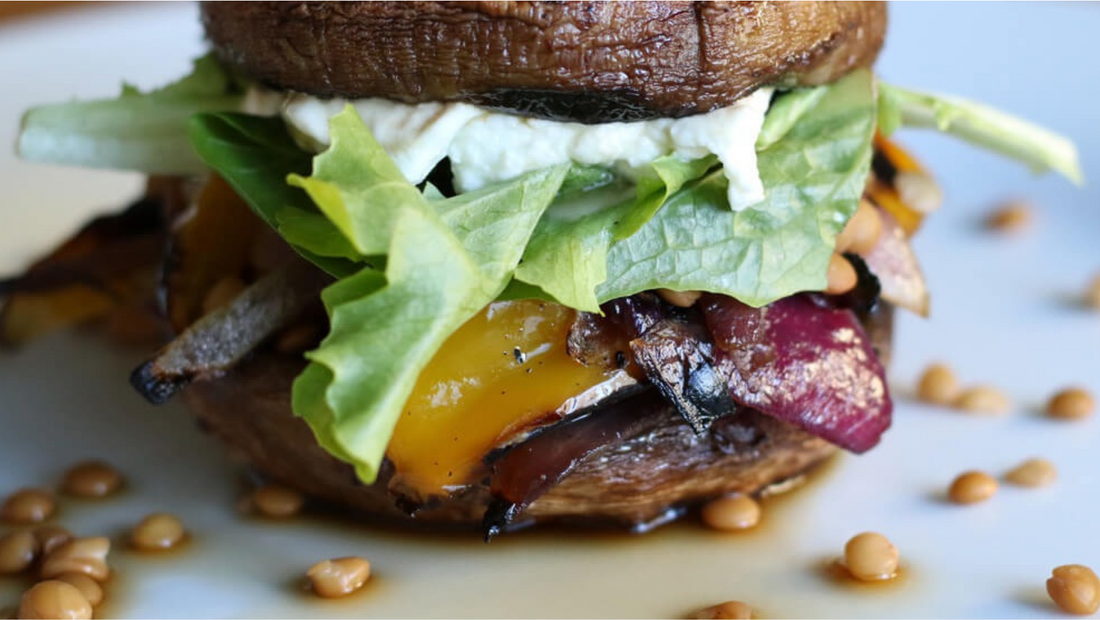 9 ingredients | 25 minutes | 2 servings
Ingredients
160g Red Onion (finely sliced)
1 Courgette (sliced into rounds)
1 Yellow Bell Pepper (sliced into strips)
15ml Extra Virgin Olive Oil
340g Portobello Mushrooms (remove stalks, chop finely and add to mix)
198g Lentils (cooked, drained and rinsed)
56g Goat Cheese (or feta)
28g Mixed Greens/Salad
Sea Salt & Black Pepper (to taste)
Directions
1. Preheat the BBQ or grill to medium-high heat.
2. In a mixing bowl, combine red onion, courgette and yellow pepper. Drizzle with olive oil and season with sea salt and black pepper to taste. Toss well.
3. Place the veggie mix directly on the BBQ or grill (or use a grill basket or tray). Grill for 15 minutes, or until slightly charred. Turn and stir periodically.
4. Brush the insides of the portobello mushroom caps with olive oil. When there is about 5 minutes remaining for the vegetables, place the mushrooms caps face down on the grill and grill until slightly softened. Turn them over at the halfway point.
5. Remove grilled veggies and mushroom caps from the grill. Fill the inside of half the mushroom caps with grilled veggies. Top with lentils and mixed greens. Fill the other half
of the portobello caps with goat cheese then place it on top to form the burger. Serve any leftover ingredients as a salad on the side.
6.Enjoy!
Hints & Tips
To make this completely vegan, just skip the goat cheese and use a vegan pesto or houmous instead.
For the meat lovers, top the grilled vegetables with thinly sliced grilled steak, chicken or bacon.
Please share your thoughts and comments
Subscribe to our newsletter and receive monthly offers, recipes, blogs and updates.
** We won't bombard you and you can unsubscribe at any time