Greek Style Chicken Burgers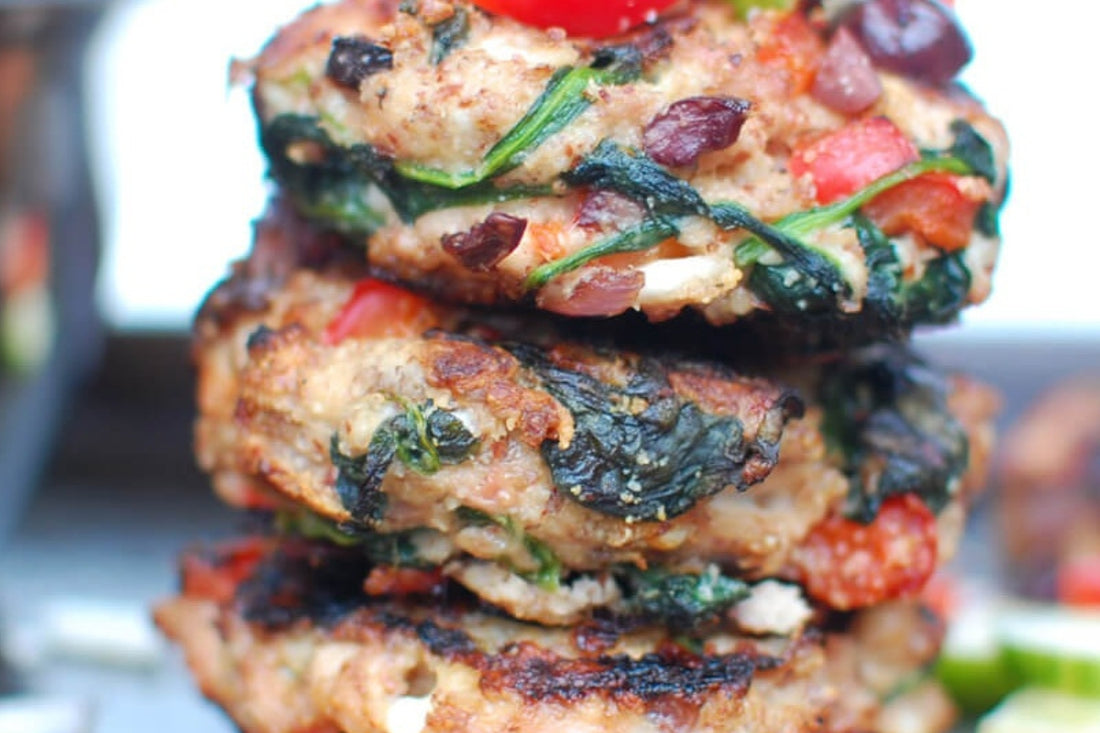 11 ingredients | 45 minutes | 4 servings
Ingredients
7ml Extra Virgin Olive Oil
1 Red Bell Pepper (diced and divided into 2 equal portions)
80g Red Onion (diced and divided into 2 equal portions)
120g Baby Spinach
112g Almond Flour
454g Extra Lean Chicken Mince
67g Black Olives (chopped and divded) 75 grams Feta Cheese (crumbled and divided) 1/2 Cucumber (diced)
113g Mixed Greens
Sea Salt & Black Pepper (to taste)
Directions
1. Heat olive oil in a large pan or skillet over medium heat and then add half of the red pepper and half of the red onion. Saute for about 5 minutes or until onion is translucent. Add baby spinach and stir just until wilted. Remove from heat and set aside to cool. If you are cooking immediately, then preheat your grill to medium heat or prepare BBQ to medium heat.

2. In a large mixing bowl, combine the almond flour, chicken mince, half of the black olives and half of the feta cheese. Now add in your sauteed vegetables. Mix well.

3. Form the mixture into even patties and place on a baking sheet. Transfer to the fridge until ready to grill.

4. Meanwhile, create your greek salsa in a bowl by combining the remaining red pepper, red onion, black olives, feta cheese and cucumber. Drizzle with a splash of extra virgin olive oil and season with sea salt and pepper to taste. Set aside until you are ready to serve.

5. When you are ready to cook, transfer the burgers onto grill and cook for about 7 to 8 minutes per side or until burger is cooked through. Remove from grill and serve our burger over a bed of greens. Top with your chopped greek salsa.

6. Enjoy!
Hints & Tips
Serve with homemade tzatziki.
Serve in a lettuce wrap or brown rice tortilla.
This mix can also work well as meatballs or sliders.
Please share your thoughts and comments
Subscribe to our newsletter and receive monthly offers, recipes, blogs and updates.
** We won't bombard you and you can unsubscribe at any time