Simple Vegan Roast Sweet Potato, Quinoa and Kale Salad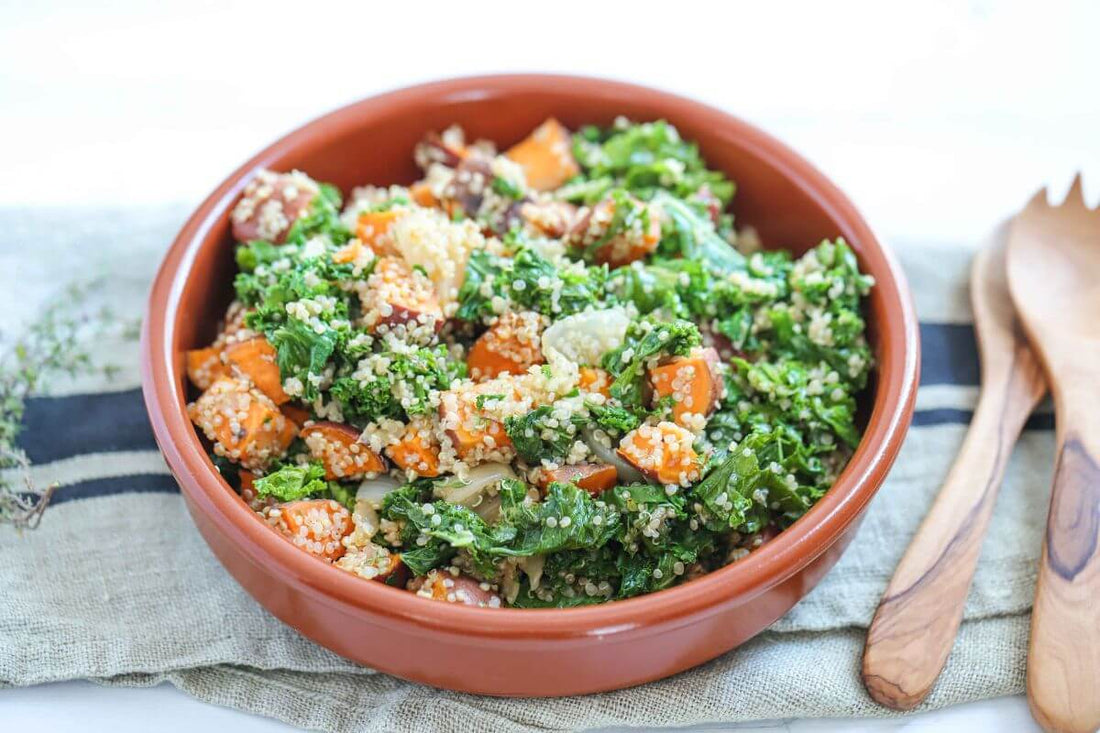 Ingredients - serves 4
** See below for nutritional information 
1 x red onion (roughly sliced)
2 x medium sweet potatoes (chopped into cubes)
1 x bunch curly kale, (de-stemmed and torn into pieces)
85g x quinoa (uncooked)
2 x tbsp of olive oil
2 x cloves of garlic (crushed)
1 x tsp of thyme
2 x tbsp of balsamic vinegar
Directions
1. Preheat your oven to 400°F (200°C).
2. Place the chopped sweet potato pieces into a roasting tin and drizzle with 1 tablespoon of oil. Season to taste with salt and pepper (Top tip: you can add a generous sprinkling of paprika over the top for a little extra flavour if you wish).
3. Roast in the oven for between 25-30 minutes until tender. Then put to one side to cool.
4. In the meantime, cook the quinoa according to instructions on the packaging. Once it is cooked, also put this to one side to cool.
5. Then heat the remaining tablespoon of oil in a large frying pane (or wok) over medium heat. Add the roughly chopped onion and the crushed garlic and cook for about 10 minutes, until golden brown.
6. Stir the torn kale into the pan and continue to cook, until it is wilted. Transfer the kale mixture to a large bowl and leave to one side to cool.
7. Once all the ingredients have cooled, add in the sweet potatoes and quinoa to the large bowl and mix gently.
8. Drizzle with balsamic vinegar and season to taste with salt and ground pepper. Stir to combine and serve.

Enjoy! If you love this, don't forget to try our other lovely Vegan Recipes for all seasons here!
Please share your thoughts and comments
Subscribe to our newsletter and receive monthly offers, recipes, blogs and updates.
** We won't bombard you and you can unsubscribe at any time