Tasty Thai Veg & Noodle Salad with Peanut Dressing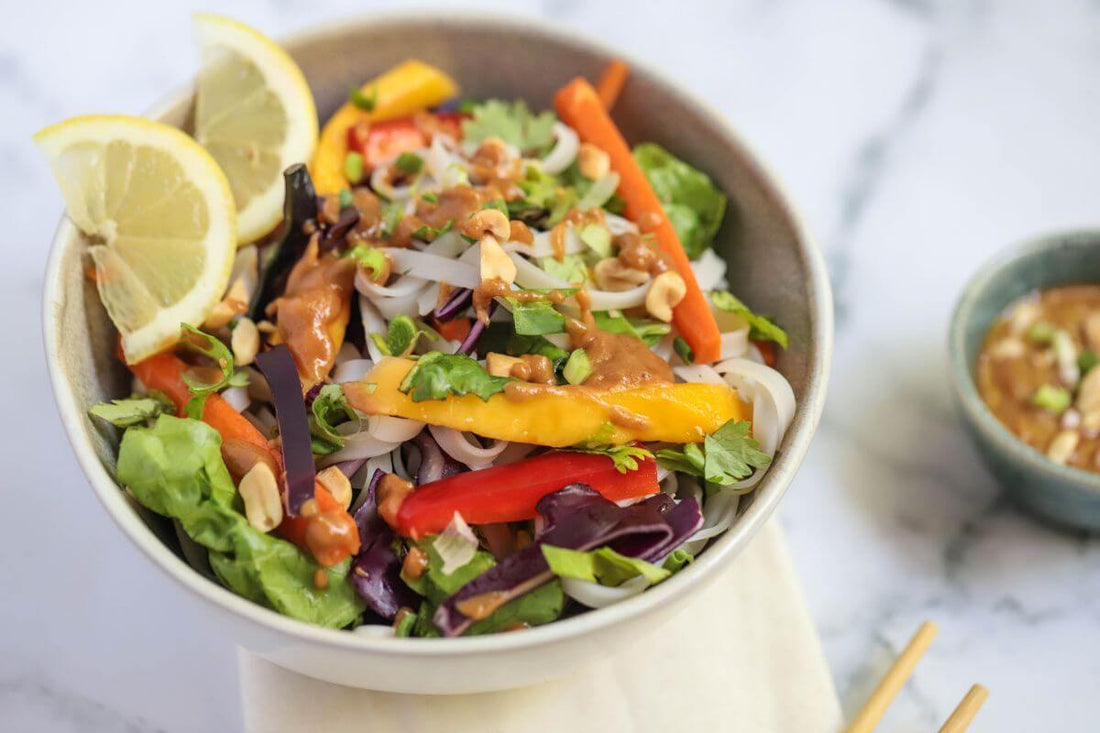 Preparation Time - 20-25 minutes 
Cooking Time - 5 minutes 
Gluten Free | Dairy Free | Vegan | Vegetarian 
Contains Nuts & Sesame 
** See below for nutritional information 
Ingredients - serves 4
For the Veg & Noodle Salad... 
225g x Pad Thai rice noodles, dry
1 x Romaine lettuce, sliced
¼ x head red cabbage, sliced
1 x red bell pepper, sliced
1 x large carrot, shredded
4 x medium onions (white or red), sliced
1 x mango, sliced
4 tbsp. x coriander, chopped
4 tbsp. x roasted peanuts, chopped
For the Peanut Dressing... 
4 tbsp. x smooth peanut butter
1½ tbsp. x lime juice
1½ tbsp. x water
1½ tbsp. x coconut sugar
2 tsp. x rice wine vinegar
2 tsp. x light soy sauce (please use gluten free version if needed)
1 tsp. x sesame oil
½ tsp. x your favourite chilli sauce (hot or sweet)
½ tsp. x root ginger, grated
1 x clove garlic, crushed
Directions
1. Slice, chop, grate and crush all the vegetables as per their requirements above. 
2. Cook the noodles according to instructions on packaging.
3. Drain the noodles and place to one side to cool.
4. Make the dressing - start by placing all the dressing ingredients together in a bowl.
5. Simply keep whisking the ingredients together until smooth.
6. Mix together all the remaining vegetables, the mango and the coriander in a bowl. 
7. Stir in the noodles and most of the dressing (but keep a small amount aside), and toss the salad lightly. 
8. You are ready to serve - just serve into bowls or onto plates and top with the remaining dressing! 
Nutritional Information (per serving)
kCal - 476
Fats (g) - 16
Carbohydrates (g) - 77
Protein (g) - 8
Fibre (g) - 7
Enjoy! If you love this, don't forget to try our other lovely vegan and vegetarian recipes for all seasons here!
Please share your thoughts and comments
Subscribe to our newsletter and receive monthly offers, recipes, blogs and updates.
** We won't bombard you and you can unsubscribe at any time