Tasty Thai Style Cauliflower Steaks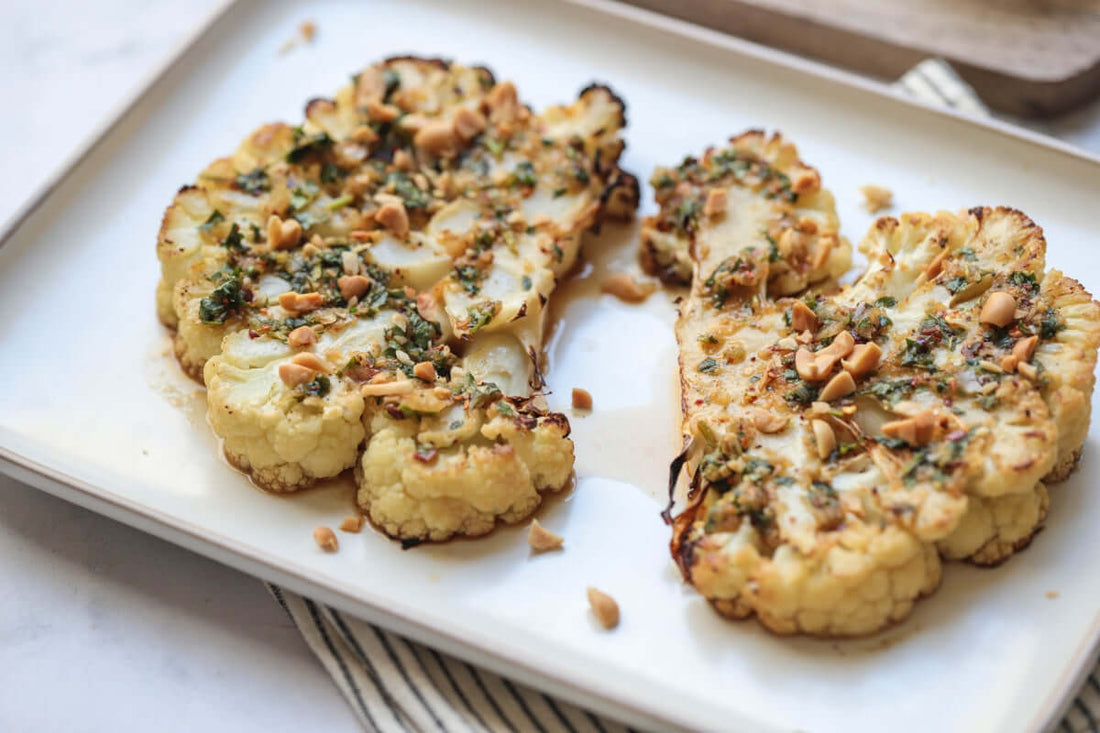 Preparation Time - 10 minutes
Cooking Time - 16 minutes
Quick | Vegetarian | Vegan | Dairy Free | Gluten Free
** Contains Nuts**
** See below for nutritional information **
Ingredients - serves 2
1 large head cauliflower, stem trimmed
1 tbsp. olive oil
salt & black pepper
4 tbsp. coriander/cilantro, chopped
1 small shallot, finely diced
1 small clove garlic, minced/crushed
1 tbsp. coconut sugar
1 tbsp. tamari
½ tsp. red pepper flakes
juice & zest of 1 lime
1 oz. (30g) salted peanuts, chopped
What you need to do
Heat the oven/broiler/grill to medium.

Place the cauliflower stem-side down on a cutting board and cut into 1" (2.5cm) thick "steaks." Rub olive oil over the steaks and season both sides with salt and pepper, and lay onto a baking sheet.

Grill the cauliflower for 8 minutes on each side, until tender and lightly browned.

Meanwhile, place the coriander/cilantro, shallot, garlic, coconut sugar, tamari, red pepper flakes, lime juice and zest, into a small bowl and stir to combine.

Transfer the grilled cauliflower to a platter, spoon over the sauce, and sprinkle with chopped peanuts.
Nutritional Information (per serving) 
kCal - 359  |  Fats (g) - 19  |  Carbohydrates (g) - 34 |  Protein (g) - 13  |  Fibre (g) - 13
Enjoy! If you love this, don't forget to try our other lovely vegan and vegetarian recipes for all seasons here!
Please share your thoughts and comments
Subscribe to our newsletter and receive monthly offers, recipes, blogs and updates.
** We won't bombard you and you can unsubscribe at any time