Mini Vegan Blueberry Cheesecakes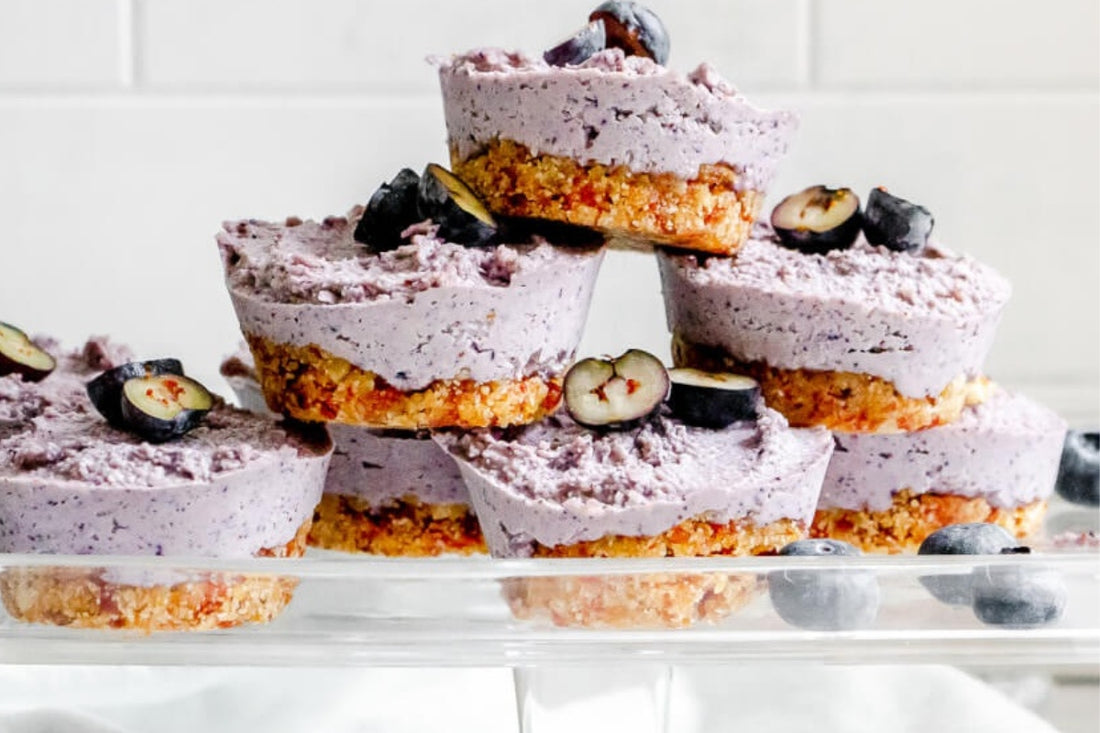 I have to confess that cheesecake is one of my personal favourites, ever! And this recipe is a real treat, and being vegan is suitable for almost anyone. Quick, simple and easy, it is a favourite in our house whatever the time of year! 
7 ingredients | 1 hour 30 minutes | 8 servings
Ingredients
56 grams Almond Flour
74 grams Pitted Dates
138 grams Cashew Nuts (soaked for at least two hours)
78 grams Frozen Blueberries
10 ml Lemon Juice
61 ml Canned Coconut Milk
1/2 Banana
Directions
1. Prepare a muffin tray with muffin or cupcake liners or use a silicone muffin tray.
2. In a food processer, pulse together the almond flour and dates until you create a crumbly, somewhat sticky mixture.
3. Divide the mixture equally into your prepared muffin tray. Press the mixture down firmly to create a crust and set aside in the freezer.
4. Wipe clean the food processor and then add the cashews, blueberries, lemon juice, coconut milk, and banana. Blend the mixture until you get a smooth, creamy texture.
5. Remove the muffin tray from the freezer and spread approximately two tablespoons of the cashew mixture on top of the crusts, being sure to evenly distribute the mixture.
6. Put the muffin tray back in the freezer for at least one hour to set. When you are ready to enjoy the cheesecakes, remove them from the freezer five to ten minutes before to soften the cheesecake slightly. Enjoy!
Hints & Tips
Leftovers - Freeze in an airtight container for up to one week.
Serving Size - One serving is one mini cheesecake.
More Flavour - Add maple syrup, vanilla essence or date syrup to the cashew mixture for more sweetness.
Additional Toppings - Fresh or frozen blueberries and/or coconut whipped cream.
Short on Time - Soak the cashews in boiled water for 10 minutes.
Please share your thoughts and comments
Subscribe to our newsletter and receive monthly offers, recipes, blogs and updates.
** We won't bombard you and you can unsubscribe at any time