BBQ or Grilled Cauliflower Steaks with Homemade Avocado Chimichurri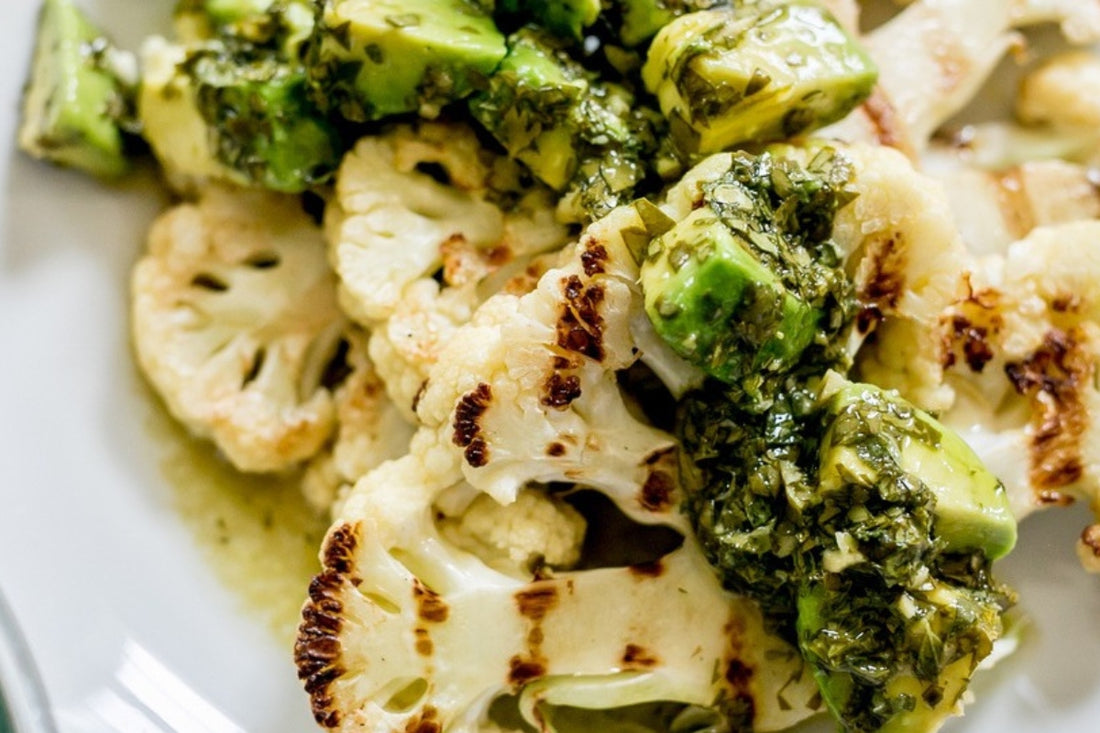 8 ingredients | 30 minutes | 4 servings
Ingredients
118ml Red Wine Vinegar
16gm Coriander (thick stems removed)
12gm Fresh Oregano (stems removed)
4 Garlic (cloves, crushed)
177ml Extra Virgin Olive Oil (divided)
6gm Sea Salt
1 Avocado (peeled and cubed)
1 head Cauliflower (sliced into steaks)
Directions
1. Add vinegar, coriander, oregano, garlic, 2/3 of the olive oil and salt to a food processor and blend until smooth. Occasionally scrape down the sides as needed.

2. Stir in the avocado until well coated and refrigerate.

3. Brush each side of the cauliflower steaks with the remaining olive oil. Preheat the BBQ or grill to a medium heat. Cook the cauliflower steaks for about 5 to 6 minutes per side, or until tender and slightly charred.

4. Transfer to plates and top with your desired amount of avocado chimichurri. Enjoy!
Hints & Tips
Like it Spicy - Add a chili pepper or red pepper flakes to the chimichurri.

Leftovers - Refrigerate in an airtight container up to 3 days. Leftover chimichurri will keep up to 1 week.

No Coriander - Use parsley instead.

No Cauliflower - Use courgette, broccoli or portobello mushrooms instead.

No Grill - Roast cauliflower steaks in the oven at 400ºF (204ºC) for 30 minutes, turning halfway.

No Food Processor - Use a blender or manually chop the cilantro, oregano, and garlic, then whisk together with the vinegar, oil, and salt.
Please share your thoughts and comments
Subscribe to our newsletter and receive monthly offers, recipes, blogs and updates.
** We won't bombard you and you can unsubscribe at any time