Balsamic Grilled Cherry Salad with Goat Cheese & Green Lentils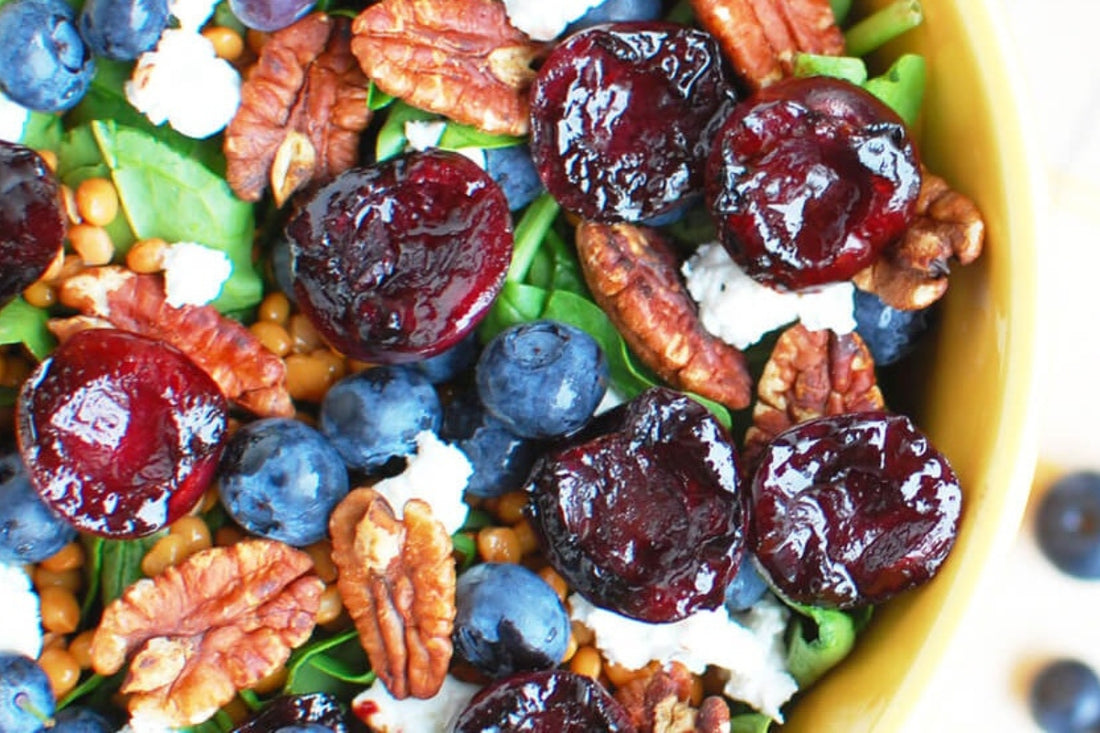 10 ingredients | 30 minutes | 4 servings
Ingredients
30ml Balsamic Vinegar
74ml Extra Virgin Olive Oil
2gm Sea Salt
725ml Black Pepper
308gm Cherries (pitted and halved)
120gm Baby Spinach
148gm Blueberries
37gm Goat's Cheese (crumbled)
198gm Green Lentils (cooked, drained and rinsed)
50gm Pecans (toasted)
Directions
1. Create your balsamic vinaigrette by combining balsamic vinegar, olive oil, sea salt and black pepper in a jar. Shake well and set aside. Whisk together in a bowl if no jar is available.

2. Preheat BBQ or grill to a medium heat. Place your pitted and halved cherries in a bowl and add 2 tablespoons of the balsamic vinaigrette and toss well. Transfer cherries to a grill pan or BBQ tray and grill until slightly charred (about 5 minutes).

3. Place baby spinach in a large salad bowl. Top with grilled cherries, blueberries, goat cheese, lentils and toasted pecans. Drizzle with desired amount of balsamic dressing and serve. Enjoy!
Hints & Tips
Meat Lover - Grill up some chicken breast or grass-fed steak with your cherries to serve alongside the salad.

Short on Time - Add the cherries to the salad raw and skip step 2.

Vegan - Skip the goat cheese.
Please share your thoughts and comments
Subscribe to our newsletter and receive monthly offers, recipes, blogs and updates.
** We won't bombard you and you can unsubscribe at any time