Grilled Chickpea Stuffed Avocados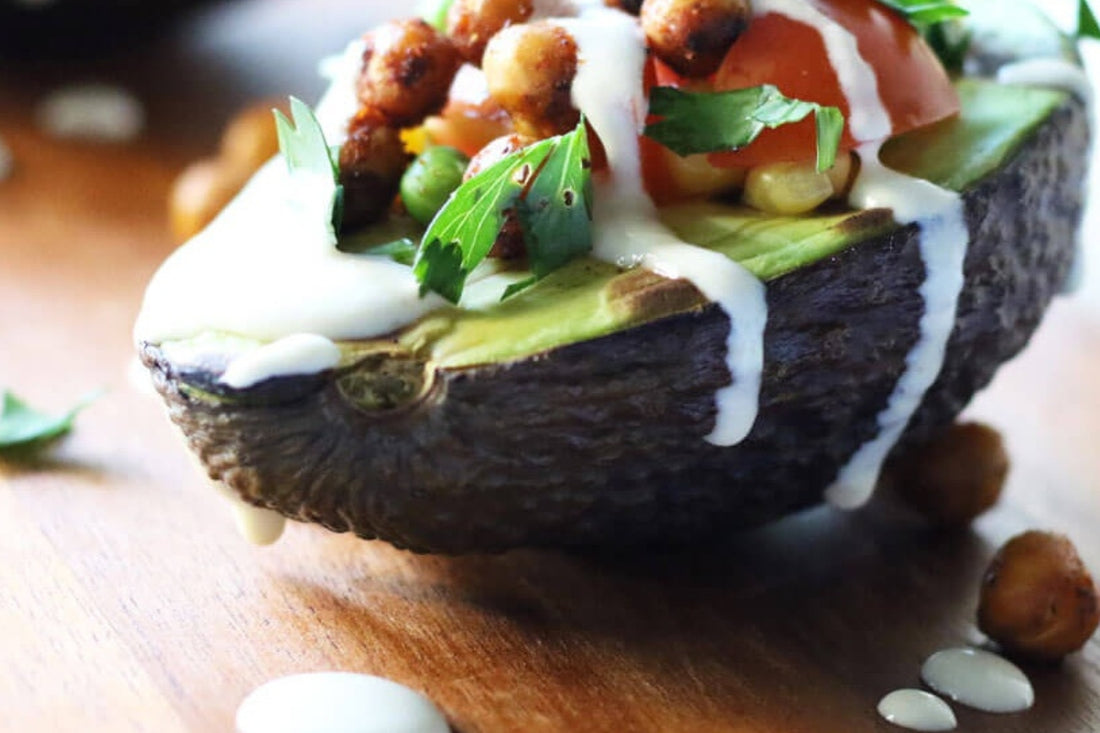 11 ingredients | 30 minutes | 4 servings
Ingredients
80g Frozen Peas (thawed)
83g Frozen Corn (or Tinned) (thawed)
75g Cherry Tomatoes (halved)
1 Lemon (juiced)
30g Tahini
328g Chickpeas (cooked, drained and rinsed)
15ml Extra Virgin Olive Oil
8g Chilli Powder
2 Avocado (halved and pits removed)
15g Parsley (chopped)
Sea Salt & Black Pepper (to taste)
Directions
1. Preheat BBQ or grill to medium heat.

2. Combine the peas, corn and cherry tomatoes in a bowl. Set aside.

3. Combine the lemon and tahini together in a small jar or jug. Seal jar and shake well, or whisk up well if using a jug. Set aside. (Tip: Add extra water 1 tbsp at a time if the dressing is too thick.)

4. In a small bowl, toss your chickpeas with olive oil and chili powder. Season with sea salt and black pepper to taste. Toss until well coated and transfer into a grill tray or basket.

5. Grill for 15 to 20 minutes or until crispy. Toss with tongs periodically to prevent burning. Brush the flesh of the avocado with a bit of olive oil then place face down on the grill. Grill for 5 minutes.

6. Remove the avocados from the grill. Stuff with the peas, corn and tomato mix. Add chickpeas on top then drizzle with tahini sauce. Garnish with chopped parsley and enjoy!
Hints & Tips
Leftovers - Best enjoy immediately. Refrigerate grilled chickpea and veggie mix in an airtight container for up to two days.

Extra Grilled Chickpea Mix - Not all of the grilled chickpea and veggie mix will fit inside the avocados, so serve it as a salad on the side.
Please share your thoughts and comments
Subscribe to our newsletter and receive monthly offers, recipes, blogs and updates.
** We won't bombard you and you can unsubscribe at any time