Hummus & Grilled Veggies Flatbreads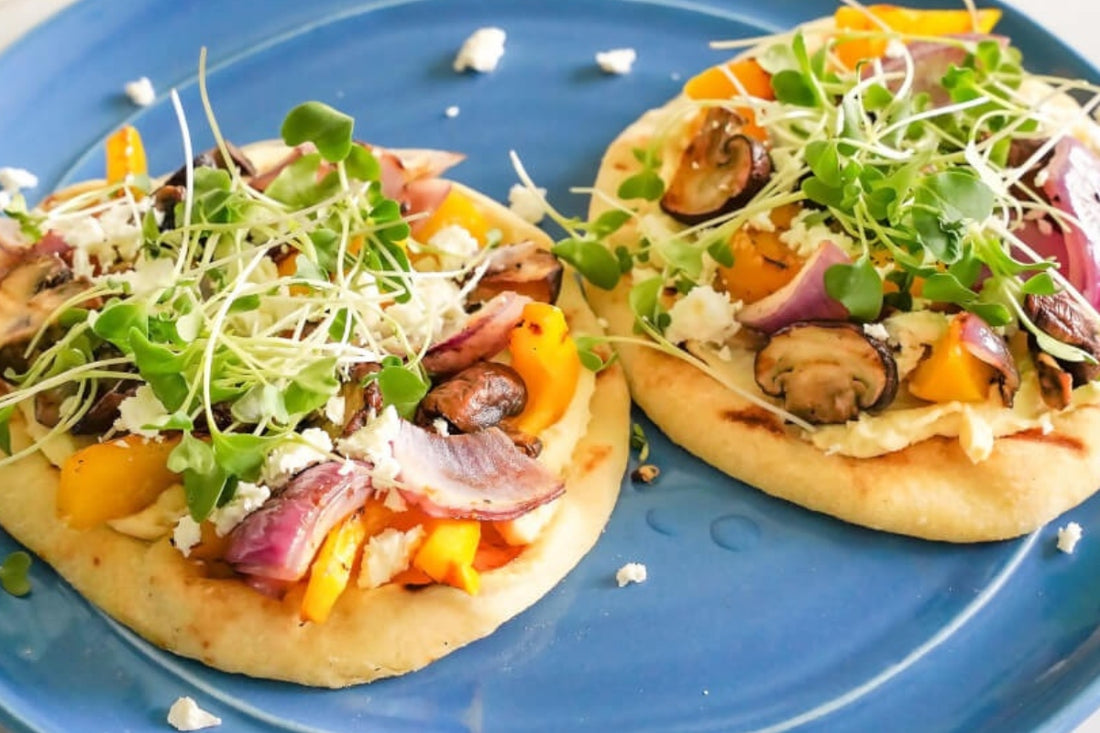 9 ingredients | 15 minutes | 2 servings
Ingredients
6 White Button Mushrooms (sliced)
1 Yellow Bell Pepper (medium, chopped)
80g Red Onion (chopped)
7ml Extra Virgin Olive Oil
2g Whole Wheat Flatbread
123g Hummus
43g Microgreens
19g Feta Cheese (crumbled)
Sea Salt & Black Pepper (to taste)
Directions
1. Preheat the BBQ or grill to medium-high heat. In a bowl, toss together the mushrooms, bell pepper, red onion, oil, salt, and pepper.
2. Transfer the vegetables to a grill-safe pan. Cook on the BBQ or grill for 10 to 12 minutes or until slightly charred.
3. Warm up the naan on the grill for about a minute, turning as needed.
4. Spread the hummus evenly on top of the naan. Top with charred vegetables, feta, and microgreens. Enjoy!
Hints & Tips
Leftovers - Best enjoy immediately. Refrigerate in an airtight container for up to two days.

Serving Size - One serving is equal to one flatbread.

Make It Vegan - Omit feta cheese or use a plant-based cheese instead.

More Flavour - Add mixed spices or a little chilli to the mix of vegetables.

No Microgreens - Omit or use arugula instead.
Please share your thoughts and comments
Subscribe to our newsletter and receive monthly offers, recipes, blogs and updates.
** We won't bombard you and you can unsubscribe at any time