Easy Tasty Thai Red Pumpkin Curry Pot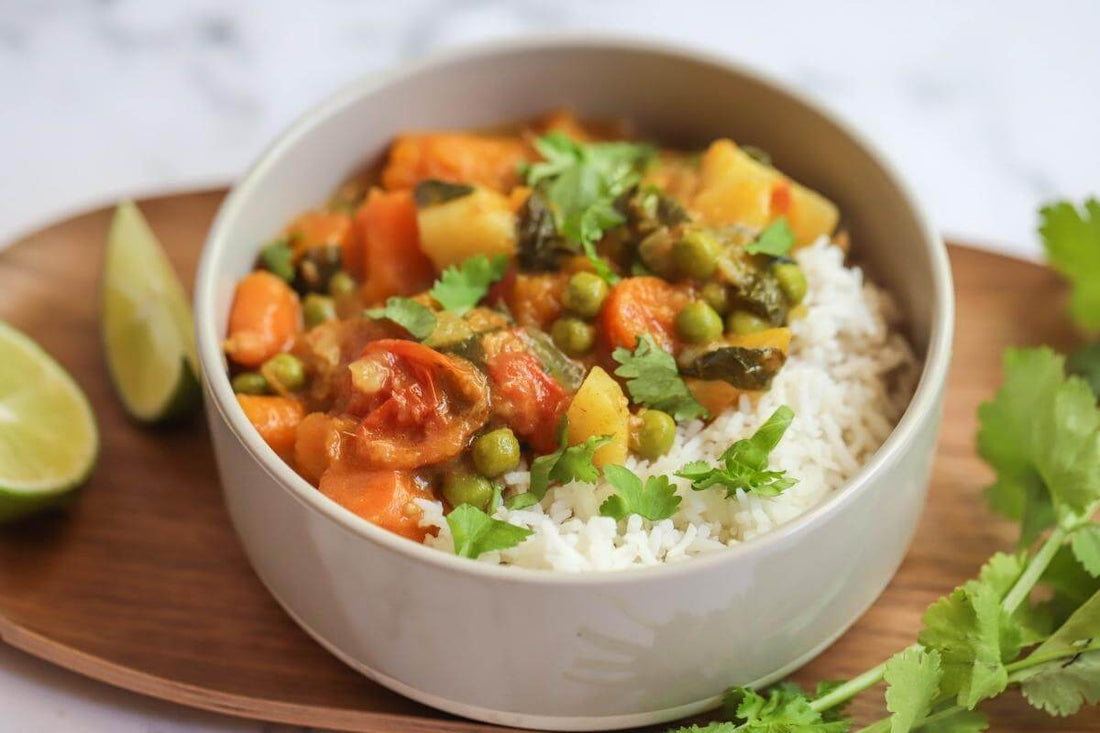 Preparation Time - 10 minutes
Cooking Time - 25 minutes
Dairy Free | Vegetarian | Quick
** See below for nutritional information **
Ingredients - serves 6
1 x onion, chopped
1 x tbsp olive oil
1 x tbsp. fresh ginger, finely chopped or grated
4 x cloves garlic, crushed or finely chopped
3 x tbsp. water
1 x tsp. salt
240ml x vegetable stock
400ml x coconut milk, canned
3 x tbsp. red Thai curry paste (shop bought is fine!)
½ x tsp. ground nutmeg
230g x pumpkin, peeled and chopped (1-2cm cubes)
1 x medium potato, peeled & chopped (1-2cm cubes)
2 x medium carrots, peeled & chopped (1-2cm cubes)
8-10 x cherry tomatoes, halved
1 x red pepper, sliced into strips
120g x baby spinach, roughly chopped
140g x frozen peas
2–3 x tbsp. fresh lime juice (bottled is fine too!)
6 tbsp. x coriander, chopped
salt & pepper to taste
Directions 
1. Warm a pan on the hob ready to cook in, and add the olive oil.
2. Once the oil has warmed, add the garlic, chopped onion and ¼ teaspoon of the salt. Allow these to gently sauté and soften for about 2-3 minutes, stirring occasionally.
3. Add the fresh ginger at this point, and continue to cook and gently stir for another 2-3 minutes. 
4. When these are done, add approximately 3 x tablespoons of water to the pan. 
5. Straight after that, add the pumpkin, red peppers, carrots, cherry tomatoes and potatoes to the pan too, and stir well.  
6. Add the red Thai curry paste and stir through the vegetable mix in the pan until it is evenly dispersed. 
7. Stir in half of the vegetable stock, and half of the coconut milk. Repeat this until all of the vegetable stock and coconut milk have been added. 
8. Season with the salt, to taste, and stir well. 
9. Cover your pan, turn down to a low heat to simmer, and leave for approx. 15 minutes, until the vegetables are cooked through. 
10. Mix in the peas and the spinach, stirring well. Turn the heat to the lowest setting, and let the pan stand/simmer for a further 5 mins, allowing the spinach to wilt and the peas to heat through. 
11. Add the lime juice and mix together to ensure it's well combined.  
12. Your curry is ready to serve! 
Serving suggestions
Add some steamed rice or mini naan bread, top with fresh chopped coriander or fresh lime to squeeze to taste. Yum!  
(** Not included in the nutritional breakdown)
Nutritional Information (per serving)
kCal - 250  |  Fats (g) - 15  |  Carbohydrates (g) - 25  |  Protein (g) - 6  |  Fibre (g) - 6
(** Not including any rice, bread or sides)
Enjoy! If you love this, don't forget to try our other lovely vegan and vegetarian recipes for all seasons here!
Please share your thoughts and comments
Subscribe to our newsletter and receive monthly offers, recipes, blogs and updates.
** We won't bombard you and you can unsubscribe at any time