Quick & Creamy Healthy Pumpkin Pasta - Veggie or Vegan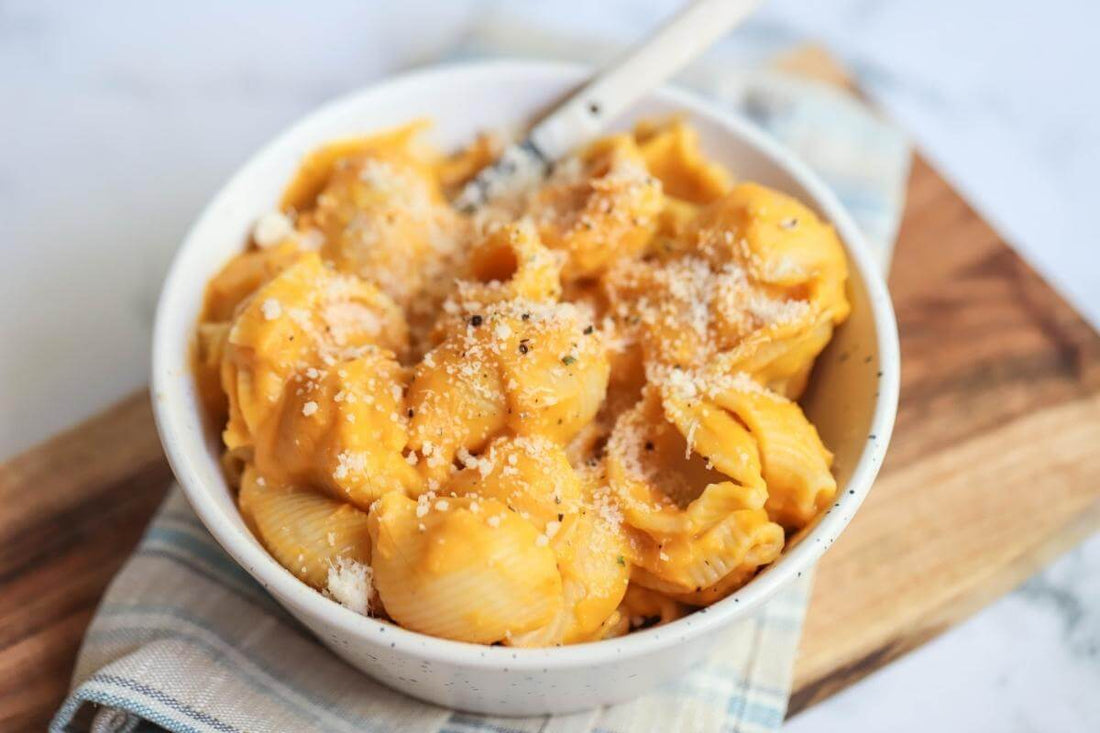 Preparation Time - 5 minutes
Cooking Time - 15 minutes
Vegetarian | Quick | Can Be Vegan & Dairy Free
** See below for nutritional information **
Ingredients - serves 6
1 x tbsp. olive oil
450g x dried pasta (of your choice)
2 x garlic cloves, finely chopped or crushed
500g x pumpkin puree/mashed and season pumpkin (home made or shop bought)
120ml x low fat crème fraiche or oat cream (your choice)
⅛ x tsp. ground nutmeg
3 x tbsp. parmesan cheese or vegan alternative of choice, grated
salt & pepper to season to taste
Directions 
1. Follow the instruction on your pasta packaging to cook accordingly. (When cook, remove and drain ready for use).
2. While your pasta is cooking, add the olive oil to a large pan and heat on medium heat on the hob.
3. Once the olive oil is warm, add your chopped/crushed garlic and allow it to cook for about a minute.
4. Add the pumpkin puree and the creme fraiche or oat cream and stir together to combine.
5. Season the mix to your liking with the salt, pepper and nutmeg.
6. Allow to cook/simmer on medium heat for up to 10 minutes, until the sauce becomes glossy and creamy.
7. Gently stir the cooked pasta into the sauce in your pan, ensuring it is well coated.
8. Serve into bowls and sprinkle with the grated parmesan or vegan alternative of your choice.
9. Any leftovers can be stored in your fridge (in an airtight container) for up to 5 days.
Serving suggestions
Top with lightly toasted pumpkin and sunflower seeds. Yum!  
(** Not included in the nutritional breakdown)
Nutritional Information (per serving)
kCal - 359  |  Fats (g) - 7  |  Carbohydrates (g) - 62  |  Protein (g) - 7  |  Fibre (g) - 5
Enjoy! If you love this, don't forget to try our other lovely vegan and vegetarian recipes for all seasons here!
Please share your thoughts and comments
Subscribe to our newsletter and receive monthly offers, recipes, blogs and updates.
** We won't bombard you and you can unsubscribe at any time