Warming Curried Pumpkin & Butternut Squash Soup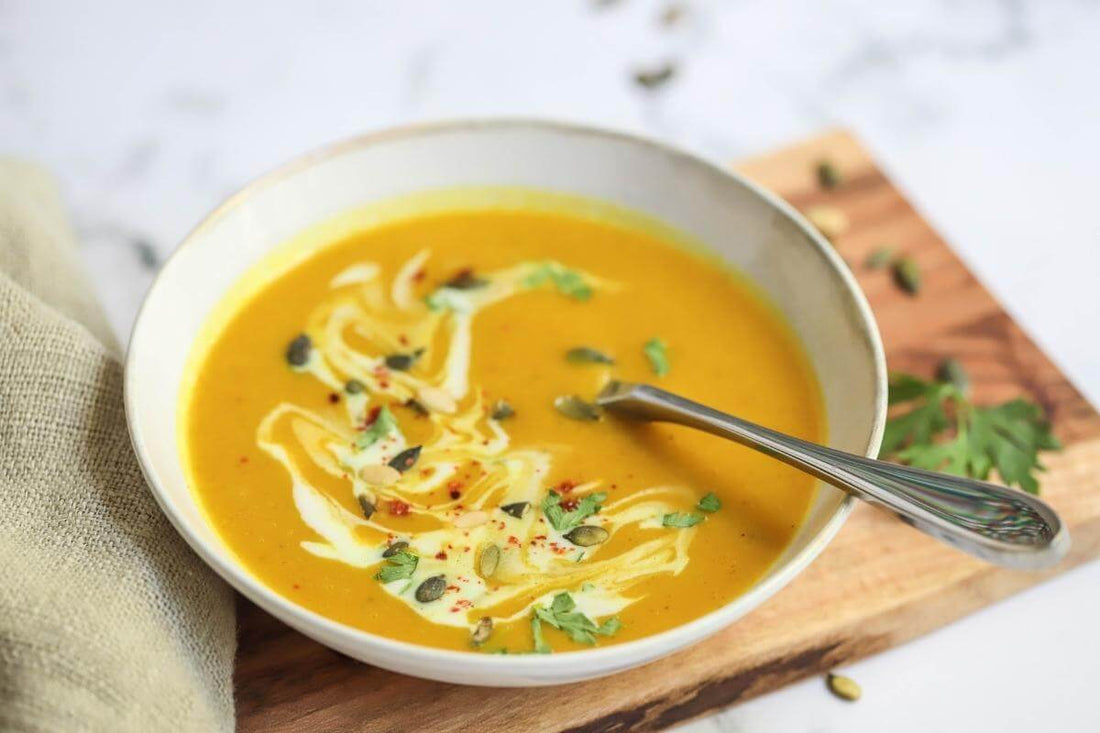 Preparation Time - 10 minutes 
Cooking Time - 15 minutes 
Gluten Free | Dairy Free | Vegan | Vegetarian | Quick 
** See below for nutritional information **
Ingredients - serves 6
1 x tsp. olive oil
1 x onion (peeled & chopped)
1 x medium butternut squash (peeled & cubed)
500g x pumpkin puree 
1 x apple (peeled & chopped)
840ml x vegetable stock or broth
240ml x coconut milk
1½ x tbsp. curry powder
1 x tbsp. ground turmeric
1 x tbsp. fresh ginger (grated)
salt & pepper to taste 
To serve... 
3 x tbsp. parsley, chopped
6 x tbsp. pumpkin seeds
2 x tbsp. canned coconut milk
Directions
1. Heat the olive oil in a large pan over medium-high heat.
2. Add the onion and soften it by cooking gently for 3-4 minutes.
3. Then, add the chopped butternut squash, pumpkin puree, chopped apple, vegetable stock/broth, coconut milk, turmeric, curry powder, and ginger, stirring well after each addition.
4. Bring the pan to a gentle simmer and allow it to cook for about 15 minutes, partially covering the pan with a lid.
5. Once the squash is well softened, it is nearly ready. Remove from the heat and use a hand blender to puree the soup to a thickness that you like.
6. You can then taste and season as needed with salt and pepper (you can quickly blitz it with the hand blender again after seasoning to ensure it's thoroughly mixed).
7. Serve the soup into bowls and garnish with pumpkin seeds, a drizzle of coconut milk and some fresh parsley.
Nutritional Information (per serving)
kCal - 263
Fats (g) - 12
Carbohydrates (g) - 37
Protein (g) - 6
Fibre (g) - 8
Enjoy! If you love this, don't forget to try our other lovely vegan and vegetarian recipes for all seasons here!
Please share your thoughts and comments
Subscribe to our newsletter and receive monthly offers, recipes, blogs and updates.
** We won't bombard you and you can unsubscribe at any time