Date, Walnut and Dark Chocolate Energy Balls (Yum!)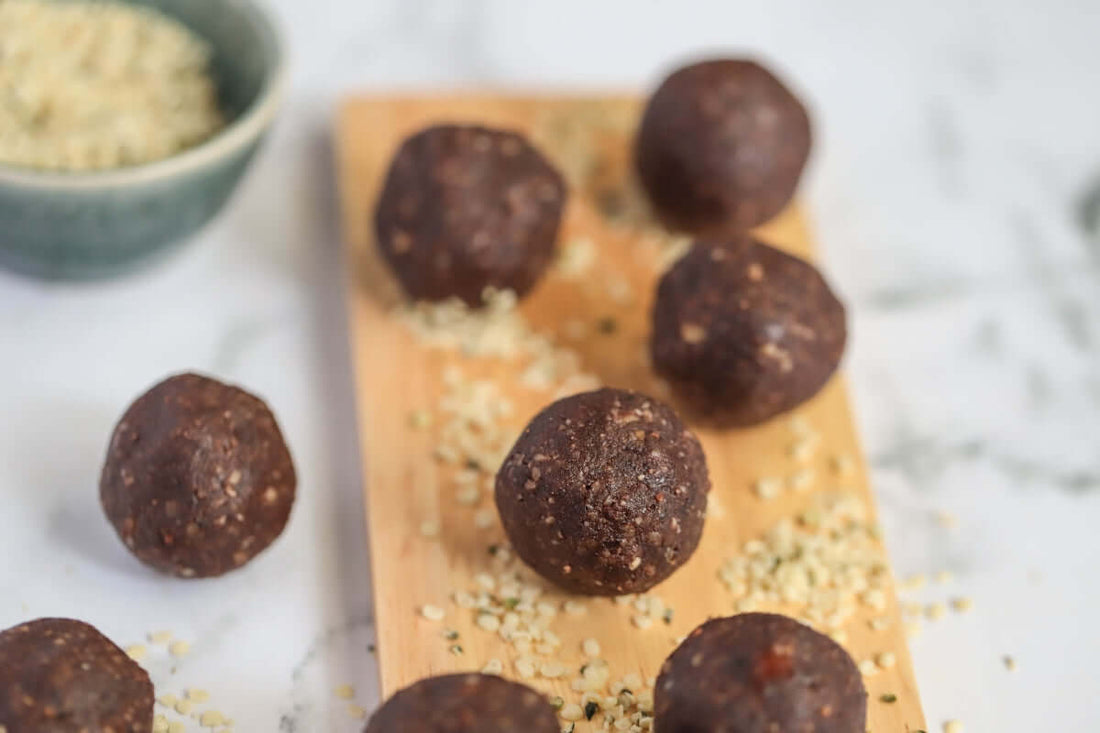 Preparation Time - 25 minutes
Cooking Time - 0 minutes
Vegan | Vegetarian | Quick | Low Carb | Gluten Free | Dairy Free
** Contains Nuts **
** See below for nutritional information **
Ingredients - makes 20
6 x tbsp. unsweetened cocoa powder
240g x walnuts
175g x pitted dates
1 x tbsp. coconut oil, melted (microwave or pan for a quick time)
3 x tbsp. almond butter (or nut butter of your choice)
3 x tbsp. hemp or flax seeds
¼ x tsp. sea salt
Directions 
1. Add the pitted dates to a food processor. Pulse until a ball forms. Scoop them out and put them to one side.
2. Next, add the walnuts to the food processor and pulse them into a fine meal.
3. Add the cocoa powder, hemp or flax seeds to the walnuts, along with the sea salt.
4. Blitz this mix together a few more times to combine it.
5. You will then need to add the blitzed dates back into the food processor with the walnut mix.
6. After that add the almond butter (or nut butter of your choosing) to the mix, and then the melted coconut oil too.
7. Pulse with the food processor until it is well combined.
8. Scoop out the mixture and form it into 20 balls using your hands (roll in your palms to form a ball). A teaspoon is really helpful for getting equal amounts per ball.
9. STORAGE and FREEZING - you can store the energy balls in an airtight container in your fridge the refrigerator for up to 1 week. Or you can freeze them for up to 1 month.
Perfect for...
For a sweet hit and a boost of energy without any added sugar, these are absolutely perfect. Ideal for keeping in the fridge, a quick snack after exercise, taking in lunch boxes or when you are craving chocolate or something sweet!
Nutritional Information (per ball/serving)
kCal - 128  |  Fats (g) - 10  |  Carbohydrates (g) - 8  |  Protein (g) - 3  |  Fibre (g) - 2
Please share your thoughts and comments
Subscribe to our newsletter and receive monthly offers, recipes, blogs and updates.
** We won't bombard you and you can unsubscribe at any time