Spiced Orange & Date Smoothie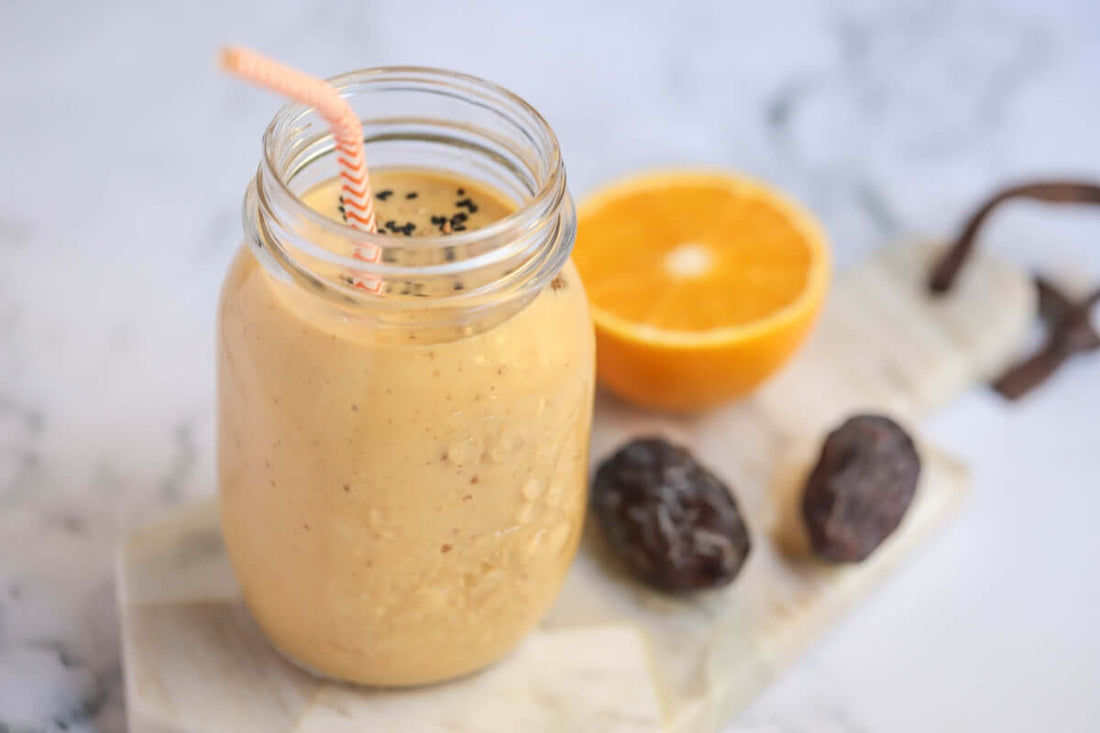 Preparation Time - 5 minutes
Cooking Time - 0 minutes
Vegetarian | Vegan | Quick | Gluten Free | Dairy Free
** See below for nutritional information **
Special notes for this recipe: 
1) You will need to have prepared some cooked & mashed sweet potato in advance. 
2) You can freeze the orange segments in advance and add them straight from the freezer - fab in summer!
Ingredients - serves 4
1 x medium orange, peeled and segmented. 
240ml x coconut milk (or another milk alternative of your own choice)
85g x cooked sweet potato, mashed
2-3 x Medjool dates, pitted
1 tbsp x tahini
½ tsp x vanilla extract
½ tsp x ground cinnamon
½ tsp x ground nutmeg
¼ tsp x ground ginger
¼ tsp x sesame seeds, for garnish
Directions 
1) Place all the ingredients into a high-speed blender together. 
2) Blitz until creamy and smooth.
3) Pour the blitzed smoothie into a tall glass.
4) Garnish with sesame seeds and dust with a little cinnamon and/or nutmeg.
5) Serve immediately.
Nutritional Information (per serving, based on coconut milk being used)
kCal - 414  |  Fats (g) - 11 |  Carbohydrates (g) - 78  |  Protein (g) - 8  |  Fibre (g) - 7
Enjoy! If you love this, don't forget to try our other lovely vegan and vegetarian recipes for all seasons here!
Please share your thoughts and comments
Subscribe to our newsletter and receive monthly offers, recipes, blogs and updates.
** We won't bombard you and you can unsubscribe at any time