Nourishing Plant Based Lentil & Mushroom Bolognese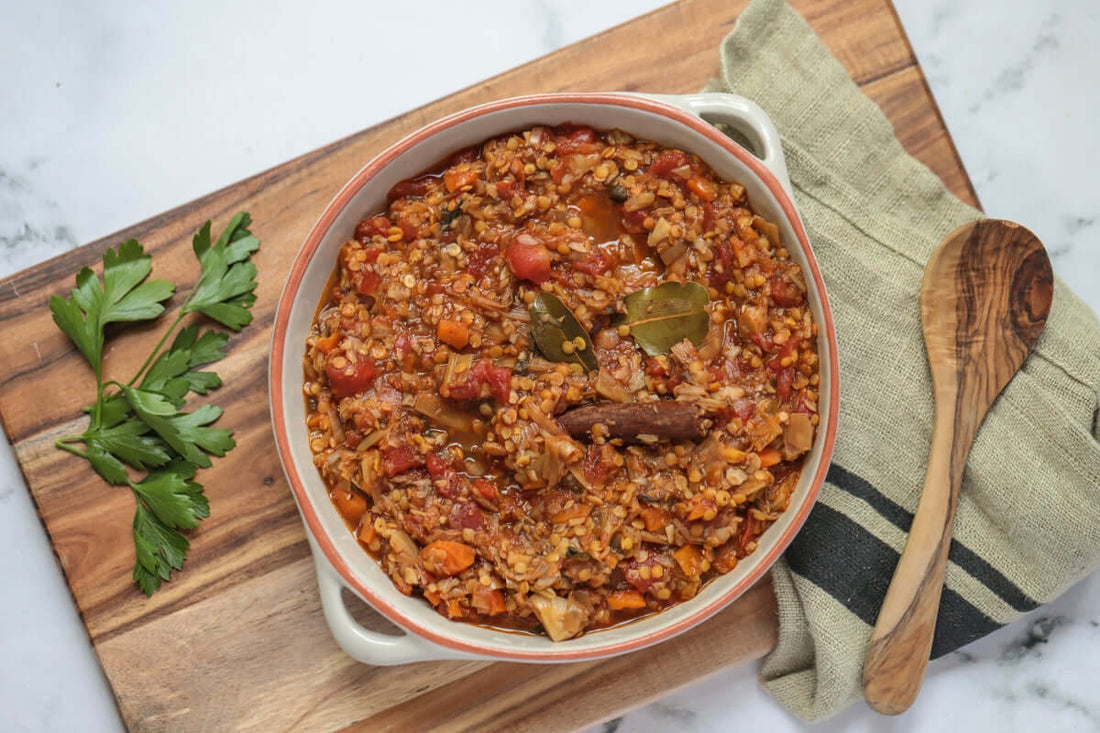 Preparation Time - 15 minutes
Cooking Time - 55 minutes
Vegetarian | Vegan | Gluten Free | Dairy Free
** Good for Freezing **
** See below for nutritional information **
Ingredients - serves 6
1 x medium white onion, finely chopped
190g x red lentils (tinned or pre-soaked)
590g x mushrooms, finely chopped
1 x medium leek, finely chopped
2 x sticks celery, finely chopped
4 x garlic cloves, crushed
1 tbsp. olive oil
4 tbsp. tomato puree
4 tbsp. balsamic vinegar
4 tbsp. parsley, chopped
960ml x vegetable stock
4 x 400g cans of chopped tomatoes
2 x cinnamon sticks
2 x bay leaves
6 x thyme sprigs
salt & pepper to season
Directions 
1. If you need to soak your lentils (as per pack instructions), please ensure you have done this in advance. You don't usually need to soak tinned lentils.
2. Heat the olive oil in a large pan, on a medium heat.
3. Add the finely chopped vegetables and herbs to the pan - onion, mushrooms, leek, celery, garlic and parsley.
4. Cover the pan with a lid and cook on a low heat for 10 minutes, stirring occasionally.
5. Remove the lid and stir in the tomato puree, vegetable broth, chopped tomatoes, balsamic vinegar, cinnamon sticks, bay leaves and thyme.
6. Allow to simmer for 30 minutes on a medium to low heat.
7. Taste and season to your liking with salt and pepper.
8. Add the lentils to the pan and stir them through your mix.
9. Cover the pan with a lid again. Allow to simmer for a further 10-15 minutes, until the lentils are soft and cooked through to your liking.
10. Remove the cinnamon sticks and bay leaves from the mix, then taste to test for seasoning (adding more salt and pepper only if required).
11. Serve into bowls and ENJOY! (Or allow to cool, then portion and freeze)
12. FREEZING - this recipe is perfect for portioning and freezing. Allow the bolognese to cool completely before freezing and ensure you use freezer proof containers or bags. 
Nutritional Information (per serving)
kCal - 212  |  Fats (g) - 3  |  Carbohydrates (g) - 35  |  Protein (g) - 13  |  Fibre (g) - 7
Please share your thoughts and comments
Subscribe to our newsletter and receive monthly offers, recipes, blogs and updates.
** We won't bombard you and you can unsubscribe at any time