Salmon Burgers with Caper Aioli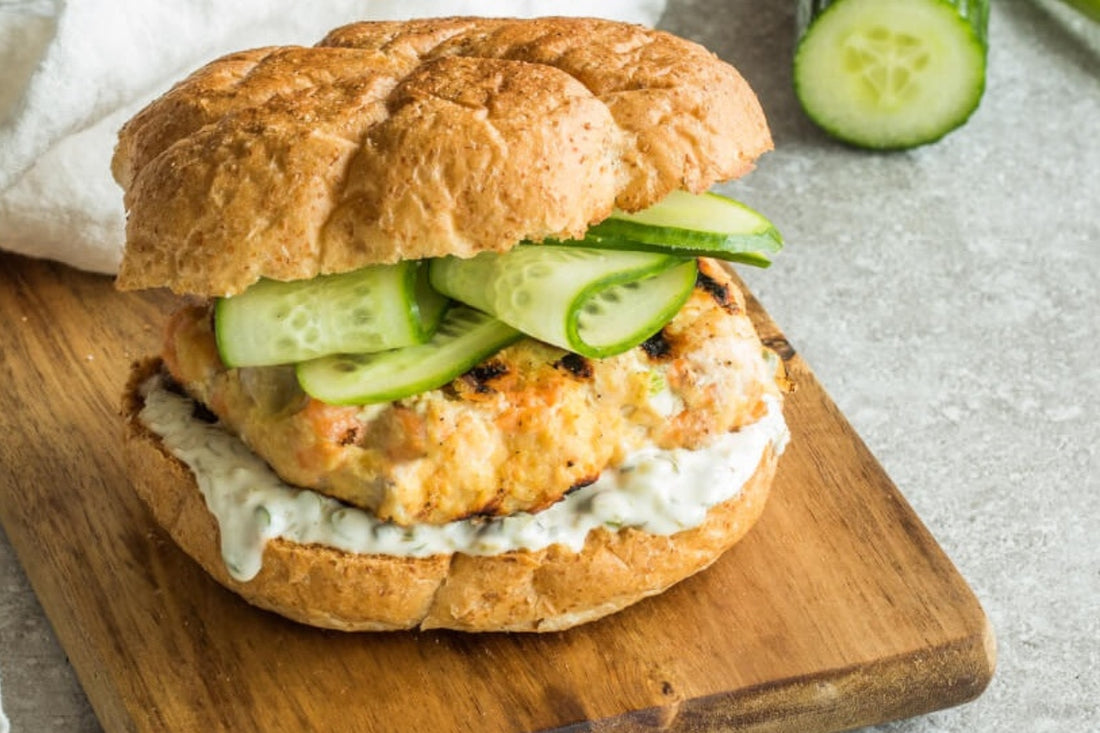 10 ingredients | 30 minutes | 4 servings
Ingredients
110g Mayonnaise
15mlLemon Juice
9g Capers (rinsed, chopped)
3 White Onion (finely chopped, divided as per recipe)
454g Salmon Fillet (skinless, chopped into small chunks)
27g Bread Crumbs (plus more if needed)
1 Egg (lightly whisked)
227g Whole Wheat Bun (toasted)
1/4 Cucumber (medium, thinly sliced lengthwise)
Sea Salt & Black Pepper (to taste)
Directions
1. In a small bowl, combine the mayonnaise, lemon juice, capers, and 1/3 of the onion. Mix well. Keep in the refrigerator until ready to use.
2. Preheat the grill or BBQ to high heat.
3. In another bowl, combine the salmon, bread crumbs, egg, and remaining onions.
4. Season with salt and pepper. Add more bread crumbs if the mixture is too soft. Shape into patties approximately four inches in diameter.
5. Adjust the grill or BBQ to medium heat before cooking. Grill the patties for three to four minutes on each side
or until the salmon is cooked through. 
6. Spread the caper mayonnaise on the inside of each bun. Place the patty on top and garnish with cucumber slices.
7. Close the burger and enjoy!
Hints & Tips
Serving Size - One serving is equal to one burger.
Whole Wheat Bun - One bun is equal to approximately 57 grams or two ounces.

For a little extra flavour, add some Dijon mustard to the patty mix.

If you want to vary the toppings, try it with sliced tomatoes, fresh lettuce and/or red onions.
Please share your thoughts and comments
Subscribe to our newsletter and receive monthly offers, recipes, blogs and updates.
** We won't bombard you and you can unsubscribe at any time