Light & Refreshing Lemony Chickpea Quinoa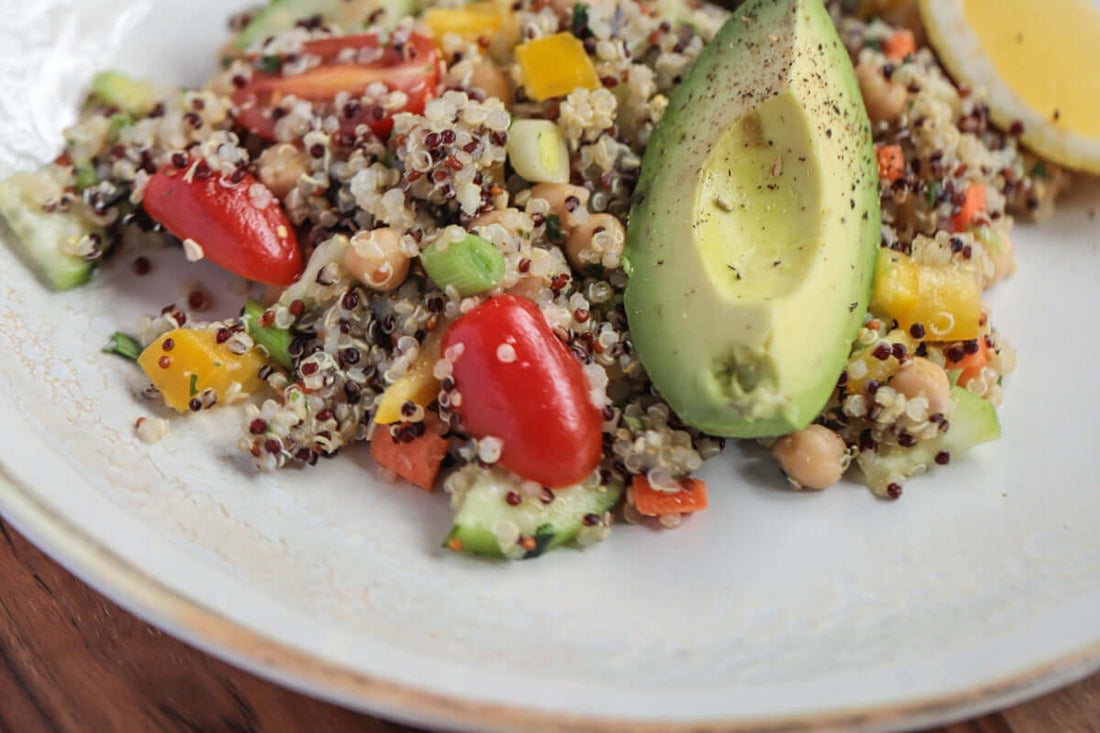 Preparation Time - 5 minutes
Cooking Time - 20 minutes
Quick | Vegetarian | Vegan | Dairy Free | Gluten Free
** See below for nutritional information **
Ingredients - serves 4
1 cup (170g) quinoa, dry
1¾ cup (420ml) water
1 tsp. garlic powder (or puree to your taste)
1 x 14 oz. (400g) can chickpeas, drained
1 medium carrot, peeled, diced
1 medium cucumber, quartered & sliced
5 spring/salad onions, sliced
1 yellow bell pepper, diced
1 cup (150g) cherry tomatoes, halved
½ cup (12g) fresh parsley, chopped
2 lemons, juiced
½ tsp. red pepper flakes (alternatively: paprika or peri-peri seasoning)
salt & pepper, to taste
Directions 
1. Gently rinse the dry quinoa under cold running water in a sieve (fine mesh ideally).

2. Put the water, quinoa and garlic powder (or puree) in a saucepan together and bring to a boil.

3. Cover the pan with a lid, reduce the heat to low and gently simmer for 15 minutes. You can then use this time to prep the other ingredients.

4. Remove the lid and leave for approximately 10 minutes. Then, fluff the quinoa with a fork.

5. Add all of the remaining ingredients to the cooked quinoa and stir through gently until evenly distributed - chickpeas, carrot, cucumber, salad onions, bell pepper, tomatoes, parsley, lemon juice and red pepper flakes (or paprika/peri-peri).

6. Season to taste with salt and pepper.

This salad can be served warm, at room temperature, or after being stored in the fridge, chilled.
Serving Suggestions
Top with toasted seeds, nuts or avocado. A non vegan option could be hard boiled egg, or some feta cheese. ** Not included in nutritional breakdown below
Storage
Store in an airtight container in the fridge for up to 3 days.  
Nutritional Information (per serving)
kCal - 308  |  Fats (g) - 5  |  Carbohydrates (g) - 56  |  Protein (g) - 13  |  Fibre (g) - 10
Please share your thoughts and comments
Subscribe to our newsletter and receive monthly offers, recipes, blogs and updates.
** We won't bombard you and you can unsubscribe at any time