Berry & Coconut Quinoa Superfood Porridge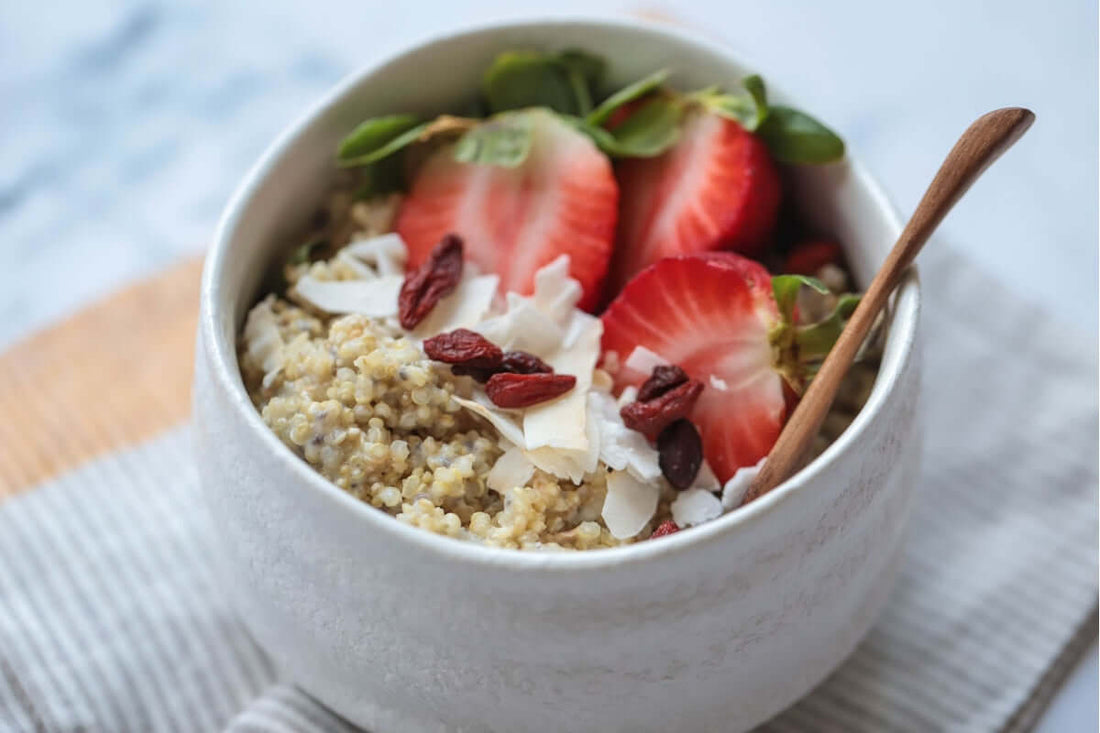 Preparation Time - 5 minutes
Cooking Time - 20 minutes
Gluten Free | Dairy Free | Vegan | Vegetarian | Quick | Contains Nuts
** See below for nutritional information
Ingredients - serves 4
1 cup (170g) quinoa
1 tbsp. chia seeds
2 cups (480ml) almond milk unsweetened
2 tbsp. maple syrup
2 tbsp. grated or desiccated coconut
2 tbsp. goji berries
2 strawberries
What you need to do
Rinse and drain the quinoa then place it into a small pan. Add the almond milk and chia seeds. Bring to a boil, then turn down the heat, cover the pan with a lid, and let the quinoa cook gently for 10 minutes. Lift the lid and stir ocassionally.
Now remove the lid and continue to cook the quinoa for a further 5-10 minutes. Keep stirring, until the quinoa has cooked.
Next stir through the maple syrup, divide between 4 bowls, and serve with the shredded coconut and berries on top.

** To boost the protein even higher for this, you can add a scoop of your favourite plant based protein powder (not included in the nutritional values below) 
Nutritional Information (per serving)
kCal - 241

Fats (g) - 6

Carbohydrates (g) - 40

Protein (g) - 8

Fibre (g) - 5
Please share your thoughts and comments
Subscribe to our newsletter and receive monthly offers, recipes, blogs and updates.
** We won't bombard you and you can unsubscribe at any time