Scrumptious Savoury Plant Based Lentil Muffins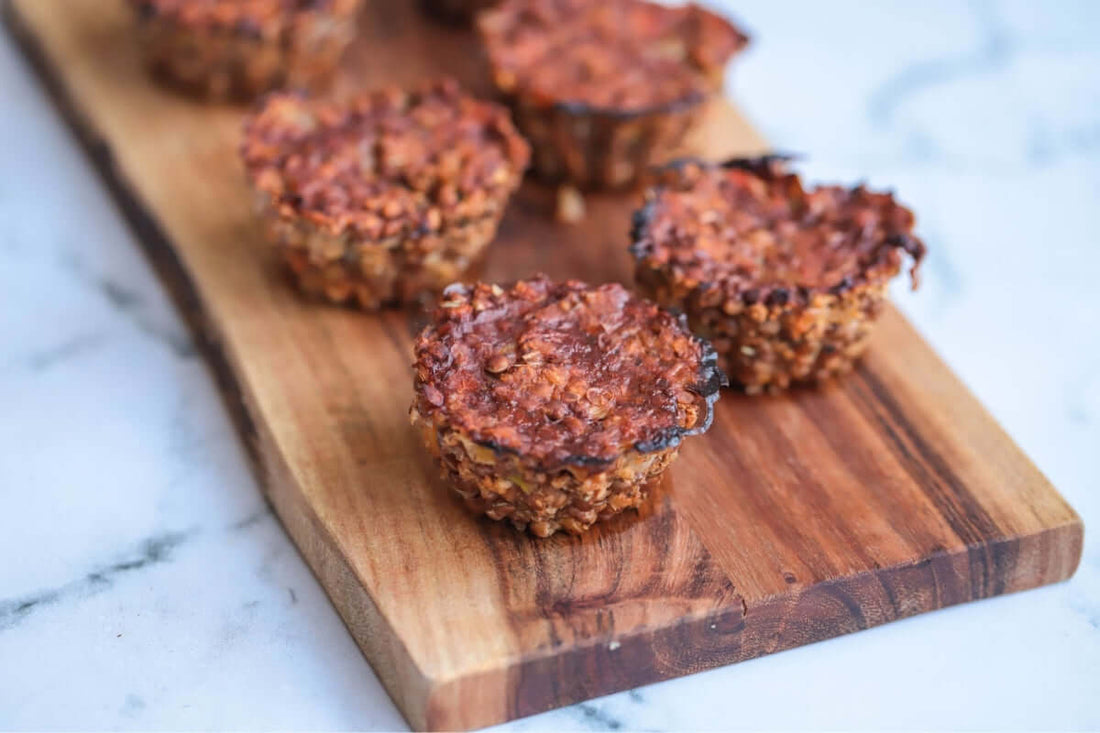 Preparation Time - 15 minutes
Cooking Time - 25 minutes
High Protein | Dairy Free | Vegan | Vegetarian 
** See below for nutritional information
Ingredients - serves 6 ( 2 x muffins per portion/serving)
1 tbsp. ground flaxseeds
4 tbsp. water
½ cup (25g) onion, finely diced
3 cloves garlic, finely chopped
1 celery stalk, finely diced
1 carrot, finely diced
3 cups (600g) pre-cooked/tinned lentils
1 tbsp. Italian seasoning
2 tbsp. tomato ketchup
1 tbsp. Dijon mustard
1 cup (60g) panko breadcrumbs
salt & pepper, to taste

For the glaze:
4 tbsp. tomato ketchup
1 tsp. balsamic vinegar
What you need to do
Preheat the oven to 350°F (180°C).

Mix the ground flaxseeds and water together in a small bowl and set aside.

Sauté the onion in a little water over a medium heat until soft, then add the garlic and cook for a further 30-60 seconds.
Add the finely diced celery and carrot, and then cook for another couple of minutes until soft. When they are soft, transfer the cooked vegetables to a large bowl.
Add the cooked/tinned lentils, Italian seasoning, tomato ketchup, Dijon mustard, panko breadcrumbs and stir light to combine.
Then add the flaxseed and water mixture to the bowl and stir through. Season lightly with salt and pepper and mix again until well combined.

Fill 12 muffin cups or cases with the lentil mixture and pat each one down lightly.

To make the glaze, mix the tomato ketchup and balsamic vinegar in a small bowl. Brush each lentil muffin with a little of the glaze.
Place the muffins into the hot oven to bake for 25-30 minutes. Remove the muffins from the oven and set aside on a wire rack to cool for 5-10 minutes before serving.

Store leftover muffins in an airtight container in the refrigerator for up to 3 days.
Nutritional Information (per serving - 2 x muffins)
kCal - 348

Fats (g) - 3

Carbohydrates (g) - 61

Protein (g) - 21

Fibre (g) - 17
Please share your thoughts and comments
Subscribe to our newsletter and receive monthly offers, recipes, blogs and updates.
** We won't bombard you and you can unsubscribe at any time