Chickpea, Sweet Potato, Spinach & Coconut Curry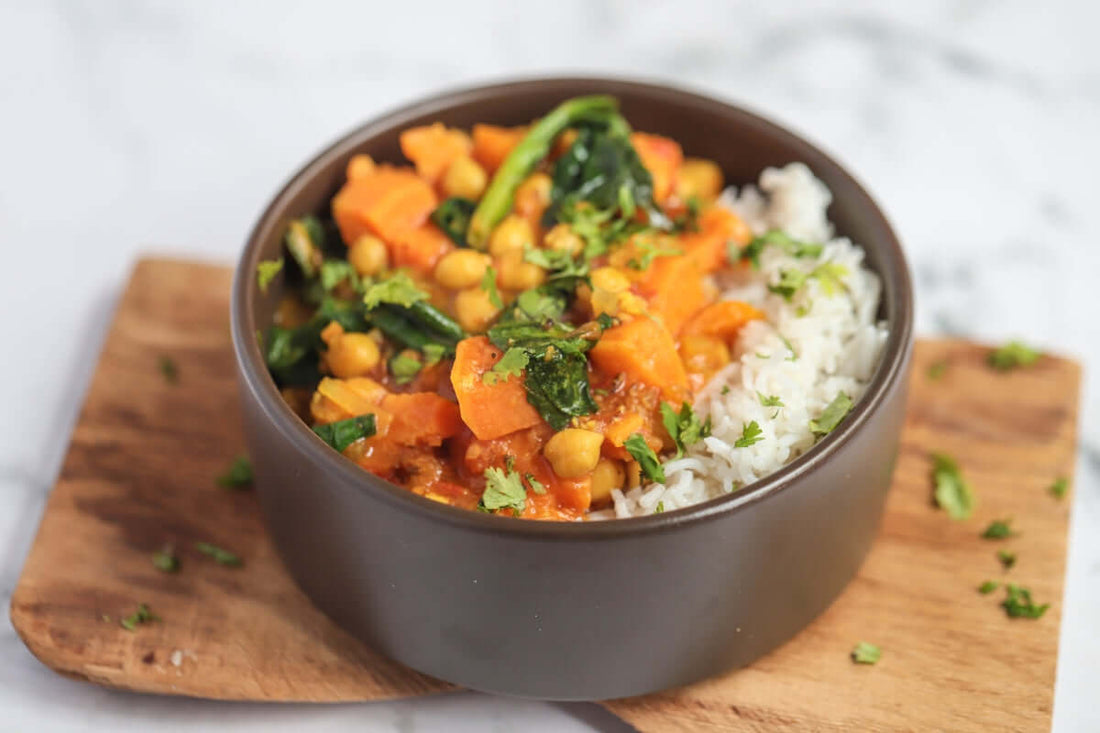 Preparation Time - 25 minutes
Cooking Time - 25 minutes
Vegetarian | Vegan | Low Carb | Gluten Free | Dairy Free
** Good for Freezing **
** See below for nutritional information **
Ingredients - serves 6
4 x tsp. coconut oil
1 x 400g can chickpeas, drained & rinsed
1 x 400g can chopped tomatoes
1 x 400g can of light coconut milk
1 x medium onion (red or white), finely diced
1 x med-large sweet potato, peeled & chopped into 1cm cubes
140g x baby spinach leaves
3 x cloves garlic, peeled and finely chopped or crushed
4 x tsp. fresh ginger, grated (you can use ground ginger instead)
1 x tbsp. cumin seeds
1 x tsp. ground turmeric
1 x tsp. ground coriander
¼ x tsp. red chilli flakes
salt & pepper to season
Directions 
1) Heat the coconut oil in a large pan over medium heat.
2) Add the cumin seeds and toast in the oil for about 1 minute, until fragrant.
3) Next, add the chopped onion and garlic to the pan and lightly season the mix with salt and pepper.
4) Cook gently for approx. 3-5 minutes until the onion is soft.
5) After this, add the turmeric, ginger, coriander and red chilli flakes to the pan and stir them in gently. Allow to cook for another 1-2 minutes.
6) Now you can add the chickpeas, sweet potato, chopped tomatoes and coconut milk to the pan and stir well to combine.
7) Cover the pan, turn down the heat and allow to simmer over low-medium heat for approx. 20-25 minutes, stirring occasionally.
8) When the sweet potatoes are tender, stir the mix well, allowing some of the sweet potato to break down and thicken the sauce.
9) Stir in the spinach and cook until wilted (which doesn't take very long). Then remove from the heat.
10) Taste and season with salt and black pepper to your liking. You are ready to serve!
Serving Suggestion
Add steamed rice, and top with chopped fresh coriander and a wedge of lime.
** not included in the nutritional breakdown.
Storage & Freezing 
Store in an airtight container in the refrigerator for up to 5 days, or in the freezer for up to 1 month. Allow the curry to cool completely before freezing and ensure you use freezer proof containers or bags. 
Nutritional Information (per serving)
kCal - 187  |  Fats (g) - 9  |  Carbohydrates (g) - 22  |  Protein (g) - 6  |  Fibre (g) - 5
Please share your thoughts and comments
Subscribe to our newsletter and receive monthly offers, recipes, blogs and updates.
** We won't bombard you and you can unsubscribe at any time